I'm giving a shout-out here to Charles Runnells for leading the Q&A on Friday when the Fort Myers News-Press' Insider and Pure Florida brought 40 guests by boat to Lovegrove Gallery & Gardens on a day trip.
The excursion left Pure Florida's dock in Fort Myers at 8:30 a.m. and plied the tranquil waters of the Caloosahatchee and Matlacha Pass en route to our dock here at the gardens. Along the way, the seafarers took photos of the amazing scenery for their scrapbooks, posted video to Facebook and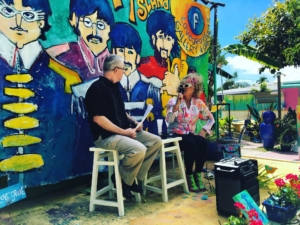 sent a slew of tweets (especially to family and friends in the cold, colorless wastelands in the northern part of our great country). There was even a marine expert on board to point out the fauna and flora along the way.
The question-and-answer session was lively and fun. I love sharing stories about my art, my gallery and our beautiful gardens overlooking Matlacha Pass. And not only did the group get to learn a little about me and my art, they had lunch and the chance to walk around our little island, visiting the other galleries, boutiques and even the ice cream shop.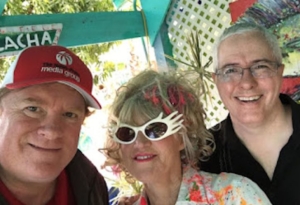 Charles Runnells covers arts and entertainment for The News-Press and news-press.com. You'll often find him sitting in a theater scribbling notes for a play review. Charles was born in Birmingham, Ala., but he grew up all over the place thanks to his Army father. He has a journalism degree from Auburn University and started working at The News-Press in 1998. He's obsessive about music (practically anything, but especially heavy metal), and he also loves reading, video games, yoga and movies. He lives in Cape Coral with his girlfriend and their five cats (don't judge).