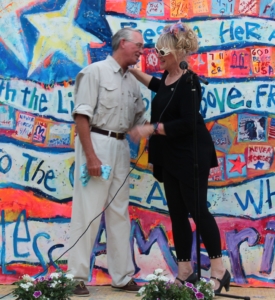 You may or may not know that during his successful campaign for the House of Representatives, I hosted a meet-and-greet for Francis J. Rooney because of his pledge to make our waters great again. At the event, I also gave him one of my heart paintings as a token of my esteem. Well, he returned the favor by giving Mike and I tickets to attend President Trump's inauguration, and on February 21, Rep. Rooney took the floor of the House of Representatives to pay tribute to moi.
Here's what he said on the record:
"Mr. Speaker, I rise today in honor of a creative visionary in Florida's 19th district–Leoma Lovegrove. As an excerpt from the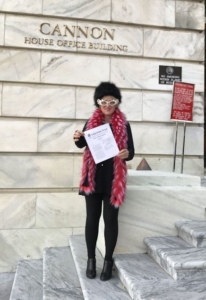 Fort Myers News-Press says, `Walking into Lovegrove Gallery & Gardens is like walking into a rainbow full of eye-popping neon pinks, oranges, purples, greens and blues . . . She applies her paintbrush to everything from cats to hearts to The Beatles.
"Leoma Lovegrove is an impressionist-expressionist painter known for her vivid paintings and colorful imagery. Leoma first started her art career making pottery, belt buckles and even decorated cow skulls. Then, a little over 20 years ago, she made her way to Matlacha–a small island community that became her home and her headquarters. Her artwork is represented in numerous galleries all over the world, including England and France.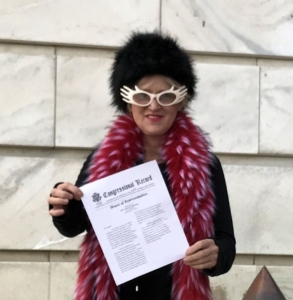 In fact, Leoma was the first American to paint on the replica of Claude Monet's floating studio in Giverny, France and the first American painter to have an exhibition in the famous Pierre Bonnard home in Vernon, France.
"I applaud Leoma and her art studio, Lovegrove Gallery & Gardens, which has brought thousands of visitors to Matlacha and all of Southwest Florida. Leoma is inspired to paint with endless imagination, and her contribution to the arts, culture and economy of Southwest Florida deserves our recognition. She has inspired artists in us all."
I am deeply touched and honored, and I thank you from the bottom of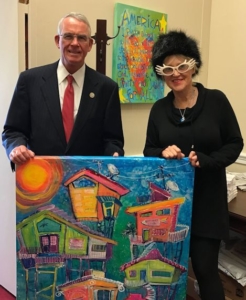 my heart, Representative Rooney.
If you find yourself in Washington, please stop by Representative Rooney's office. You'll find my painting Island Time Starts Here hanging on his wall. It represents our desire to keep our waters clean and reminds Mr. Rooney of his pledge to advocate in the Congress for water quality back home here in Southwest Florida.
It's such an honor to be part of history in Washington, D.C.