Located in the heart of Matlacha Island is one of Southwest Florida's most colorful landmarks. Lovegrove Gallery and Gardens is a whimsical reflection of artist/owner Leoma Lovegrove, for whom it serves as her international headquarters, artist studio and island gift shoppe. With its distinctive pink roof, polka dotted walls and mix of art, pop sculpture and gift ideas, Lovegrove's gallery sets the tone for the island's entire gallery district. And out the back door, guests find unexpected treasure in the form of a relaxing technicolor botanical garden with a view of the tranquil waters of Matlacha Pass.
Leoma's art is instantly recognizable for its exuberant paint strokes (sometimes created with her fingers) and palette (often a huge garbage can lid) filled with vibrant tropical colors. While her impressionist/expressionist style and tropical motifs appeal to people looking to take home a bit of the Gulf Coast, her Beatles series and other entertainment portraits have captured the attention of art lovers worldwide. At Lovegrove Gallery & Gardens, you'll discover why Leoma's work has been collected by President Jimmy Carter, Sir Richard Branson (Virgin Airlines), Mrs. George W. Bush, Sharon Stone, Jesse Metcalfe and many others and why it has inspired Bealls Department Store to feature Leoma's art statewide across multiple products lines.  And as you enter the island, be sure to take notice of Leoma's 65-foot mural at the post office. It's definitely an Instagram moment.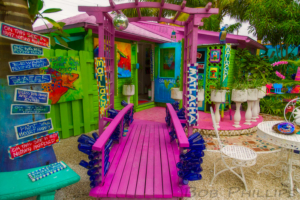 Lovegrove's Beatle inspired art exert their presence in the Garden through a large painting of the Fab Four from their Yellow Submarine album. The painting serves as a backdrop on the stage (which she's named Leopiville) where Lovegrove may be found giving a "Painting Out Loud" performance for special corporate and charity events.
The garden is an assemblage of tropical botanicals that represent flora indigenous to Matlacha Island and Florida with purple-painted bridges, wrought-iron tables and chairs under coconut palms with painted trunks and multitudes of midnight blue bottle trees.  Just as Ringo Star's octopuses skimmed the ocean floor looking for shells and shiny objects for their gardens, Lovegrove collects empty Saratoga Spring Water bottles left behind from her visitors drinking the sparkling spring water sold at Lovegrove Gallery & Gardens, and then recycles them into beautiful pieces of garden art. The gallery & gardens are the ideal venue for private parties or special occasions. Contact us today for more information.
While enjoying the Garden you can also pick up a coconut postcard to send to a loved one.
Boat dockage is available for those traveling by water from November through May.
Located In Beautiful Matlacha Florida
GPS Coordinates
N 26.37.691 W 82.04.283
For more information email us:
sales@leomalovegrove.com
Or call the gallery at:
(239) 938-5655
HOURS
Sunday – 11AM – 4PM
Monday – Saturday 10AM – 5PM
Garden closes at 4:45PM or earlier for inclement weather.
Appointments available, please call or text Sarah in advance at 239-203-8332.