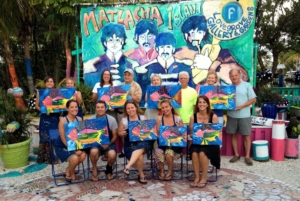 Vino's Picasso hosts painting parties in our gardens, helping participants create their very own Leoma-inspired painting. Don't know how to paint? No worries. Owner Mercedes Price and her artists will walk you and your friends through the easy-peasy process. You absolutely don't need any prior experience to make a painting you and your family will cherish forever.
If you're not familiar with Vino's Picasso, they're a co-op of l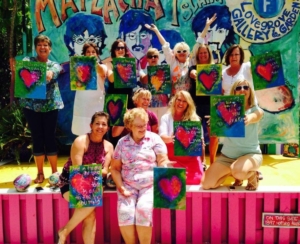 ocal artists who believe that everyone has an inner artist that's just waiting for the right circumstances to emerge. Over 90% of the folks who attend one of their events have never painted before, and you won't believe the fun you'll have as you make your very own Lovegrove-inspired masterpiece!
But don't just take my word for that. Vino's Picasso has been voted the #1 paint bar and art gallery on TripAdvisor by travelers and locals just like you! You'll quickly discover that the reason they have such an impeccable reputation is because they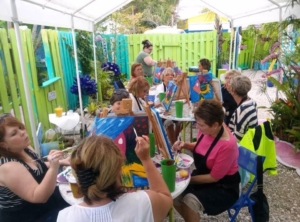 love what they do and they make their own rules! And I'm proud to announce that we'll be partnering for a sixth consecutive year.
If you haven't painted in my garden with them before, you must put it on your list for 2018. The artists are a lot of fun and you never know when I'll pop in with my glitter gun or to sign your canvas. Their calendar is out and you can reserve your seats now. Parties begin in January and run through April. But you better hurry, because these events sell out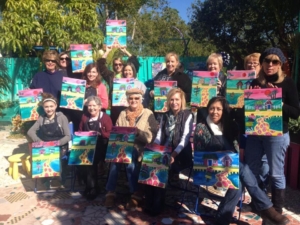 fast!
They'll have paint, brushes and everything else you need, including aprons. But come dressed to paint! Wine and light refreshments will be available, with music and good company as well. RSVP to Vino's Picasso now by calling 239-431-8750.