On the heels of Monday's announcement that Lovegrove Gallery & Gardens, Bealls and I are all included in Nancy Hamilton's 100 Things to Do in Fort Myers & Sanibel Before You Die, which is due out February 1, 2018, be sure to pick up a copy of Naples Illustrated, where the gallery and I are included in an article on Pine Island titled "For Lovers of Quirky Culture."
The writer was impressed by the mural I painted on the side of the post office to greet visitors as they cross over the bridge from Cape Coral. As you may know from previous posts in this blog, the mural depicts how our Creative Coast artists' community rose from the ashes of our fishing community that crashed and burned as a result of the net ban referendum that was passed in the 1990s, and it is a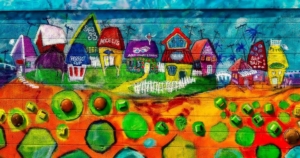 powerful illustration of how when one door closes another opens if you approach the change with a positive mental attitude.
I just love the article's lead sentence, "'Island Time Begins Here' reads the sign as you cross the bridge into Pine Island's town of Matlacha, an Alice in Wonderland kind of place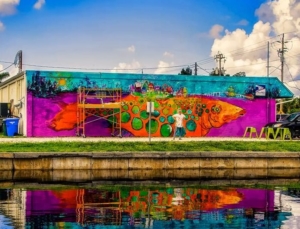 where things, indeed, aren't always as they seem."
So pick up a copy of Naples Illustrated and read the full article. There are other gems inside on how to make this Christmas a big, bright Florida holiday!