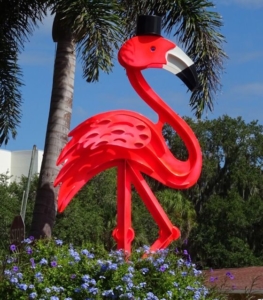 I am thrilled to tell tell you that The Marietta Museum of Art & Whimsy is now open for the season. Located at 2121 N. Tamiami Trail in Sarasota, the museum is dedicated to "collecting, preserving and exhibiting works of artistic and whimsical importance" and enjoys a growing reputation for collecting and exhibiting culturally-significant, contemporary artwork that celebrates upbeat themes and whimsical notions.
You'll know when you arrive by the three bright pink, 1,200 pound flamingos that stand outside its entrance. When you go – and you must – be sure to wander out back. That's where you'll find the museum's Fantasy Land-like lush, tropical sculpture garden that features flocks of plastic flamingos as well as three winged pink p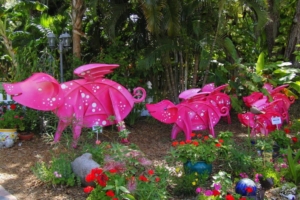 igs preparing to take flight. But it's what's inside the museum that I know you'll appreciate. You see, The Marietta Museum of Art & Whimsy acquired four of my paintings this past spring, and when you go, you'll find:
Our House, which depicts a beach house with two cats in the yard;
Mozart, a homage to my beloved Moluccan cockatoo;
My Glamper, a painting that was inspired by my colorfully wrapped, trademark mobile art studio (see yesterday's post); and
Beach'n Ride, which depicts a bicycle that we had on display until recently in the botanical gardens here on Matlacha Island.
"We are very fortunate to have Leoma Lovegrove's work in our permanent collection," the museum's founder and curator, Marietta (Mary) Lee, says. Ms. Lee was attracted to the paintings because of their bright and cheerful motifs and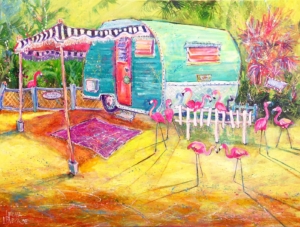 adroit workmanship.
The paintings come from my Florida Floats My Boat series. The series consists of 16 paintings that I created last year for Bealls. They've included images from the series on a host of my designer products, including tees, tanks and other tops; nightgowns; totes; beach umbrellas, chairs and towels; watches and jewelry; and sundry housewares. My images from this and the other series I've created especially for Bealls appear on millions of their products, which they sell online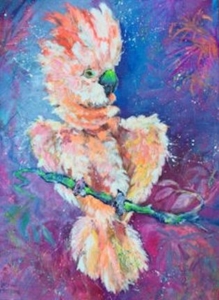 and in each of the 74 brick-and-mortar they maintain in Florida.
Like Bealls, The Marietta Museum of Art & Whimsy fell in love with my bold, vibrant colors and ability to capture in acrylic Southwest Florida's active, healthy, water-based lifestyle.
The museum has limited hours of operation. It is only open from 1:00 to 4:00 p.m. Thursday through Saturday now through May 26, 2018 (except holidays). While admission is free, the non-profit museum does appreciate a $5 donation per person. For more information and directions, please visit http://www.whimsymuseum.org or telephone 941-364-3399. And be sure to say hi when you go,. If you take a selfie in front of the paintings, be sure to send it to me or post it right on my Facebook wall for everyone to enjoy!