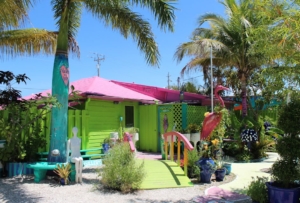 Last June, TripAdvisor awarded Lovegrove Gallery & Gardens a Certificate of Excellence. Now in its sixth year, the TripAdvisor Certificate of Excellence celebrates hospitality businesses that have earned great traveler reviews on TripAdvisor over the past year. Certificate of Excellence recipients include accommodations, eateries and attractions located all over the world that have continually delivered a quality customer experience. I cannot tell you how thrilled my staff and I were to receive this recognition, and we are grateful to our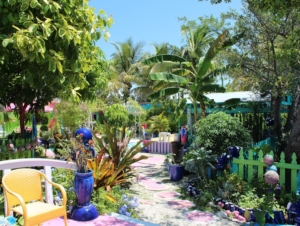 many visitors for submitting their fabulous reviews throughout the years.
While people come for the art, so many are blown away by the gardens they discover outside the back door and windows of the gallery.
When you venture outside, the very first thing you'll notice is how lush the vegetation is. The garden is festooned with an array of palms, shrubs and tropical and semi-tropical plants that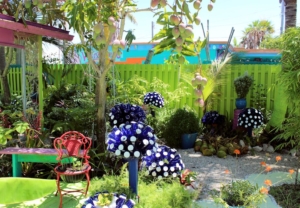 flourish in the sunny, warm climate we enjoy year-round on beautiful Matlacha Island. We've gone out of our way to include cascading vines, broad-leafed succulents, bamboo and ferns that provide lots and lots of texture.
You will also find a variety of orchids, bromeliads and flowering plants with yellow, orange and crimson blooms. You may even find banana plants and fruit trees if you look closely enough. Some crane their necks into the Southwest Florida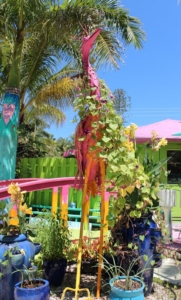 sky from brightly-colored ceramic pots. Most occupy beds joined together by intentionally meandering footpaths that connect the garden's four corners.
Someday, we hope to label the specimens interspersed throughout the garden. We may even create an acoustiguide audio tour or one you can listen to on your cell phone. We have big plans. But the overarching purpose of the gardens is to provide a peaceful, positive respite from the tensions and pressures of our rush-all-day daily lives.
And to enhance that effect, all of the wood walkways, handrails, fencing and footbridges are colorized with the same vibrant pigments you will see on my palette and the paintings inside. The dock is powder blue with French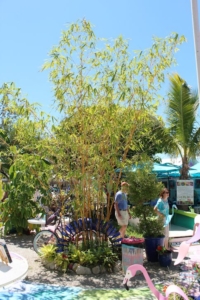 ultramarine blue pilings where boats can tie off. The fences are a cheery Thalo green.
There are wood benches topped with lavender seats, and a gently arching green-planked footbridge with pineapple-painted uprights that support pink-taffy hand rails that usher guests from the gallery to the gardens and then back inside again.
The garden is dominated by bottle bushes (not to be confused with bottle brush trees). These bushes are completely artificial.
I make them myself from empty midnight blue Saratoga Water bottles. My sister died from cancer several years ago. She didn't smoke and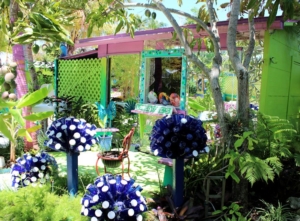 watched what she ate and always drank bottled water. I've always wondered if the chemicals from the plastic caused the cancer, so I got together with Saratoga Water and now offer water in glass bottles to the people who visit me here. They leave behind the empties – more than 3,000 of them every year.
I just had to do something with them. This is what I came up with. At night, the fluorescent-trimmed white bottoms glow in the dark adding to the garden's ambiance for nighttime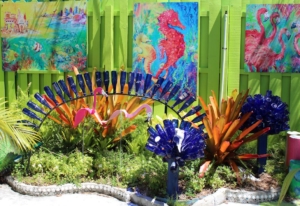 events.
As I mentioned, the gardens end in a southerly-facing dock that overlooks a canal leading out to Matlacha Pass. That's where Captain Jack docks the Leomatized powerboat that he uses for his back bay eco-tours. I've also been known to go out in the boat to paint from time to time, taking a page out of Claude Monet's playbook. It's a wonderful experience.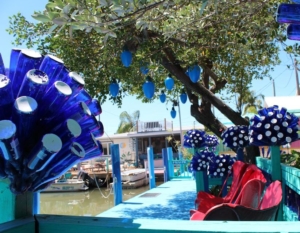 On the gardens' west side is a newly-built covered wood deck that houses nearly tables that huddle beneath cerulean blue umbrellas. This is where we hold events like last Saturday's Slow Art Day and where Mercedes Prices and her Vino's Picasso artists help participants create their very own Lovegrove-inspired masterpieces several times a week. Although the paint parties are winding down for the season, check with Vino's Picasso for future events.
In the center of the garden I've built an elevated stage that looks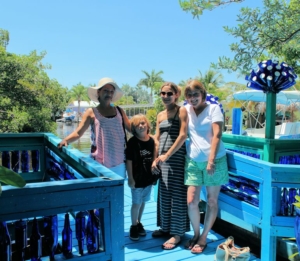 back toward the gallery and is bordered by a circular maze painted on a concrete floor. The stage has served as the platform for individual musicians, small bands, authors and artists, and a smattering of politicians too. I'm not just saying this to get you to come and spend some time and money with us, but you truly owe it to yourself to attend one the events we hold in the gardens. You'll have a great time and create some terrific memories that you will treasure a lifetime. We knock ourselves out to make sure you have an awesome visitor experience.
We've also placed a host of artifacts in the gardens, from an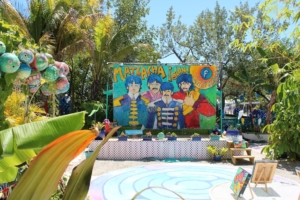 old boat hull to metal and glass sculptures. You'll have fun discovering the gems that peek out at you from beneath palm fronds and the broad leaves on the footpaths along the way.
You know, art is not just a painting on canvas or a glass or metal sculpture. Just like a mural or a sculpture garden like Louise Nevelson's Dawn's Forest at Artis Naples, you will find that our botanical garden is a work of art. And it's an artwork that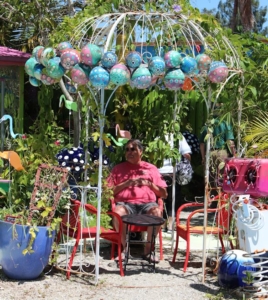 you can discover and re-discover time and again. And it is one of the attributes of a visit to Lovegrove Gallery & Gardens that has people writing positive reviews on TripAdvisor.
But don't take my word for it. Come and see for yourself!
Lovegrove Gallery & Gardens is located at 4637 Pine Island Road on beautiful Matlacha Island. For gallery hours and more information, please call 239-938-5655.