One year ago, Lovegrove Gallery and Gardens was honored by TripAdvisor® with their Certificate of Excellence. The TripAdvisor Certificate of Excellence celebrates hospitality businesses that have earned great traveler reviews on TripAdvisor over the preceding year. Certificate of Excellence recipients include accommodations, eateries and attractions located all over the world that have continually delivered a quality customer experience.
The world's largest travel site, TripAdvisor® enables travelers to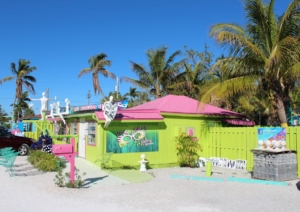 plan and book the perfect trip. TripAdvisor offers advice from millions of travelers and a wide variety of travel choices and planning features with seamless links to booking tools that check hundreds of websites to find the best hotel prices. Operating in 48 markets worldwide, TripAdvisor branded sites make up the largest travel community in the world, reaching 340 million unique monthly visitors, and 350 million reviews and opinions covering 6.5 million accommodations, restaurants and attractions.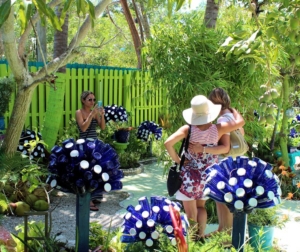 "With the Certificate of Excellence, TripAdvisor honors hospitality businesses that have consistently received strong praise and ratings from travelers," notes TripAdvisor Vice President of Industry Marketing Heather Leisman. "This recognition helps travelers identify and book properties that regularly deliver great service. TripAdvisor is proud to play this integral role in helping travelers feel more confident in their booking decisions."
The Certificate of Excellence accounts for the quality, quantity and recency of reviews submitted by travelers on TripAdvisor over a 12-month period.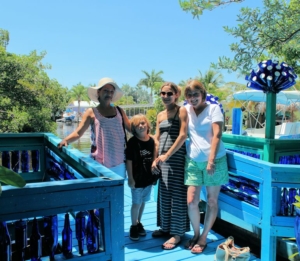 To qualify, a business must maintain an overall TripAdvisor bubble rating of at least four out of five, have a minimum number of reviews and must have been listed on TripAdvisor for at least 12 months.
We couldn't have been more proud and thrilled to receive this honor, and we again thank everyone who takes the time to submit a review after visiting us in beautiful Matlacha. But I have a confession to make. We get equally excited when folks post positive reviews on Facebook.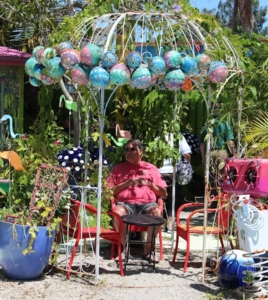 Like this one from Sheila Goff Walas: "Took a friend and my cousin from RI, had a wonderful time and took lots of memories in pictures. Always enjoy going to the gardens. I always loved to have a fish bowl and when I saw the goldfish, I brought some to put in a bowl. So enjoyed Leoma inaugural Jacket hanging on the wall. It was my 7th trip and will go back again…. thanks Leoma for all your beautiful talent that you share. A big 5 from me…"
And there's this from Amanda Sweeney: "Leoma Lovegrove's gallery and garden is spectacular- a real gem… but the true gems are Leoma and her wonderful staff. I brought a large group (about 30) to her gallery and reached out to see if she would be on the property so the folks I was traveling with could meet her. Our group was running behind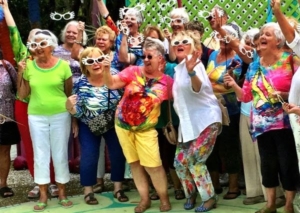 and I let her know- it didn't look like we would have the opportunity to meet her after all because she had a meeting that afternoon. We proceeded on to another stop on our Matlacha tour and about five minutes into it- Leoma showed up! She saw our bus and pulled over just to shake hands and pose with our folks!!! It was an absolute privilege and we were so enthused that she would go out of her way to do that for us! Once we got to her gallery further into the tour, it was evident that she goes the extra mile in everything she does- her displays and garden were gorgeous and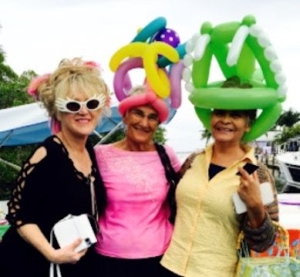 her wonderful staff had the same great attitude that she does. If you are in Matlacha, you simply CANNOT skip a stop to Leoma Lovegroves!"
"What a wonderful place!" writes Kelly LaMagna. "Leoma and her husband are so welcoming and just great people in general. So glad to part of this community and thankful for what she did for the kids!"
Kathy Gay adds, "We had the pleasure of visiting the studio last weekend….and LOVED it! What a happy place! Loved the inside and outside…it was beautiful. We bought 3 prints but I could have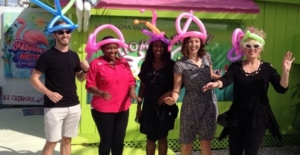 picked out so many more. If we are ever blessed to come back to the area, I would certainly come back to Leoma's gallery. That camper out back…I want that :)))))"
And Lisa Farrell remarks, "WOW! What a fantastic, funky gallery! Love her style and all the brilliant colors. The garden is like waking into a fantasy dream. An experience not to be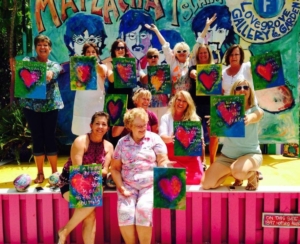 missed, if you are in the area. Also a great place to pick up gifts for others (& yourself)."
There's so many others, but we'd definitely like to hear from you. Share your experience on our Facebook wall. Your feedback really means a lot to us!
Lovegrove Gallery and Gardens is my international headquarters. It has been featured in magazines and social media across the globe and is one of Florida's most colorful destinations.