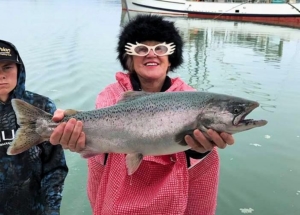 Mike and I are in Alaska on vacation. The scenery is incredible. It's cold enough that I get to wear my fav black fur hat. And on top of everything else, we got to go fishing today … and caught a King Salmon!
I love to fish. Sometimes I fish from the dock behind the gallery. We have a cottage at the gallery too, and I've even wet a line or two while reclining on the bed under the back window. But fishing for salmon in Alaska is an experience. The King Salmon (or Chinook Salmon) is one of Alaska's most sought after species because of its size and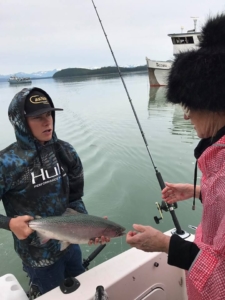 relative scarcity. They average 10-50 lbs but have been known to reach 130lbs or more. We caught this one trolling. Mike and I took turns reeling him in.
Do you like to eat salmon? Well, most people eat Atlantic salmon, which are farm raised. Pacific salmon are typically not farm raised, but they're hard to come by in Florida restaurants and stores. There are five species of Pacific salmon, and the top two are sockeye and kings. King salmon (also called chinook), however, accounts for a mere one percent of the total Alaskan catch. A true king, which might travel more than 2,000 miles before spawning, is a bona fide prize, and few people outside of the Northwest will ever see one.
Let's just say that king salmon is like nothing you've ever eaten. 'Nuff said.
So catching (and eating) one of these beauties is definitely a highlight of our trip!