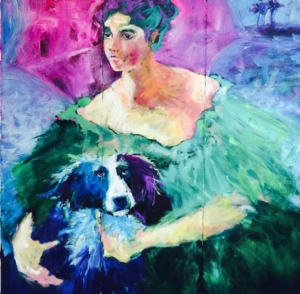 One of the paintings that displays my passion for fashion is a triptych of Mina Miller Edison that I painted in 2014 as the centerpiece of the Fort Myers Founding Females portrait show. That was an exhibition that was designed to introduce Southwest Florida residents and visitors to some of Fort Myers' most prominent early female leaders, civic activists, philanthropists and entrepreneurs.
I called the painting Mina's Touch to underscore that she placed her imprint on the town we know and love today. I based the painting on a photo I got from the Edison Historical Society. (The canine is Cinnamon, the family dog.) Notice how I gave Mina a vibrant, free-flowing gown that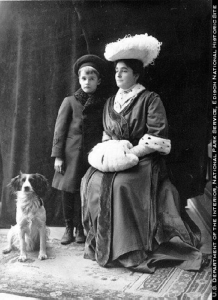 reflects her youth, self-confidence and penchant for making a statement. Fashion should make a statement and reflect your unique personality.
Triptychs are paintings that consist of three interconnected panels. Each of the panels in Mina's Touch measure 24 x 72 inches. I painted each panel on unstretched canvas.
The painting was something of a departure for me. While it features the loose and lively brushstrokes that I prefer, I didn't use either drips and splatters. This made the final result more of an Impressionist and less of an Expressionist painting. The shift in genre was a byproduct of spending several weeks painting in Claude Monet's gardens in Giverny, France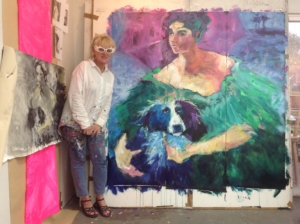 and attending a workshop in California where I studied portraiture theory and technique.
I'm getting ready to go back to Giverny. Return often to my blog as there will be lots of stories from France toward the end of the month!
By the way, Mina's Touch is available for purchase. If you're interested, give Lovegrove Gallery & Gardens a call.