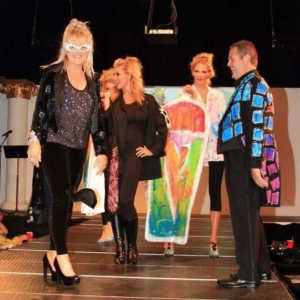 You probably know (at least you'd better) that for the last four years I've been providing Bealls Department Store with the art they use for my line of women's and children's wear, household good and other items which they feature online and in their department stores. You may have also seen me out and about in apparel that I've handpainted, including jackets, tops, pants and my signature heels. But what you may not know is that I'm also a fashion designer, as RSW Living Magazine reported last September. In fact, I was part of the very first Art Walks the Runway at the Sidney & Berne Davis Art Center.
In the RSW Living piece, Renee' Novelle named me as one of Southwest Florida's 3 hottest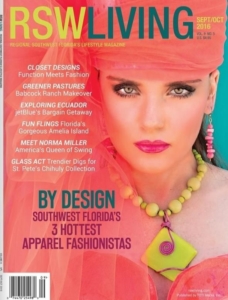 apparel fashionistas (along with Helen Gerro and Mike Anthony). RSW Living is published by Times of the Islands Media, which has captured the spirit of life on the Southwest Florida coast since 1996.
I'd nearly forgotten being interviewed by Renee' over the telephone three months before her story appeared in print. Instrumental in Renee's decision to include me on this prestigious short list are the designs I have done for Bealls Department Stores. I too am proud of the work I've done for Bealls and am deeply grateful to them for the creative license they've given me to marry fine art with everyday fashion.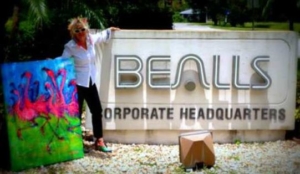 I became associated with the Bradenton-based department store back in February of 2013. They saw some of my paintings and liked my bold, vibrant colors and the way my images capture our active, healthy, water-based lifestyle here in Southwest Florida. But being a prudent, smartly-run company, Bealls wanted to test the water, and so after doing a lot of market analysis and focus group testing, they started out slowly, introducing a limited line of casual wear bearing i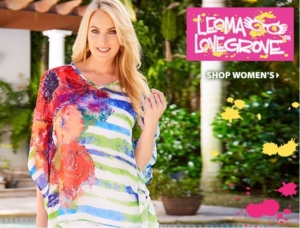 mages they commissioned me to create.
The designs caught on, and so the following year, Bealls expanded my product line, adding handbags, totes, luggage, beach towels, Tervis drinkware and more. The new products were rolled out at the same outlet in the Cypress Trace Shopping Center in Fort Myers where they'd first announced our affiliation.
Today, I'm thrilled to report that Bealls' expanded Leoma Lovegrove product line is available in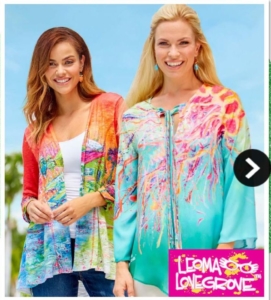 each of the Department Store's 74 brick-and-mortar department stores throughout the State of Florida as well as online at: http://www.beallsflorida.com/online/leoma-lovegrove. And I am proud to say that the promotion and sale of my product line has given Matlacha Island and Southwest Florida added name recognition and a welcome boost in tourism. That's because each item identifies me as an impressionist/expressionist artist from Matlacha Island.
Beall's Department Stores is a division of Bealls, Inc. Founded in 1915 as a dry goods store, the Bradenton-based company now operates more than 540 stores in 17 states under the names Beall's, Beall's Outlet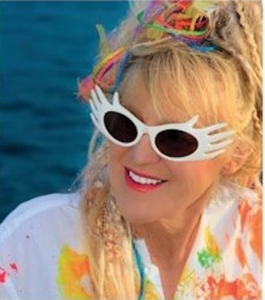 and Burke's Outlet. Besides Florida, the company operates stores in Alabama, Arkansas, California, Louisiana, Mississippi, Nevada, New Mexico, North Carolina, South Carolina, Tennessee, and Texas. Today, Beall's is the destination of choice for casual lifestyle and priced right apparel and home merchandise. To learn more about Bealls, please visit BeallsFlorida.com.