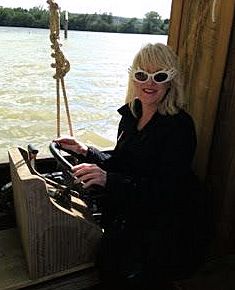 For Throwback Thursday, I'm going to do something a little bit different. I'm going to take you back in time more than 100 years to the town of Giverny, France.
As you hopefully know by now, I go to France once or twice each year to recharge my artistic batteries. During my time abroad, I typically visit Clause Monet's gardens in the town of Giverny. I often paint there after hours, sometimes with a group who join me to paint Monet's famous Japanese bridge. But I've also enjoyed the huge honor of being the very first American to paint in Claude Monet's Floating Studio, Le Bateau-Atelier, near his gardens in Giverny, France. I was also invited by Captain Bertrand de Vautibault and his wife to be the first American to exhibit my artwork at their adjacent home and gallery, Maison du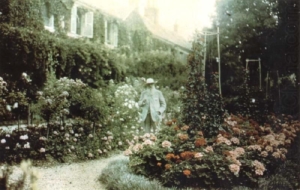 Peintre Pierre Bonnard, where the boat is docked.
Have you ever wondered what it would have been like to be in the gardens at Giverny while Monet was there, painting water lilies? Well wonder no more. Enjoy this brief (2:26 minute)  YouTube footage of Monet painting en plein air at Giverny!