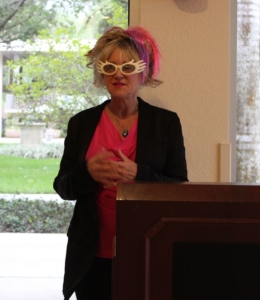 When Mercedes Price (Vino's Picasso), Christie Marcoplos (Blue Mangrove Gallery) and I selected the winners of the District 19 Congressional Artistic Discovery Contest, all we had to go on were the artworks submitted by our talented high school entrants. We chose Cypress Lake High junior Deanna Craig in third place. She was interviewed at the awards ceremony by Southwest Florida art journalist Tom Hall. He provides a more personal look at Ms. Craig and her painting. Here's what he wrote:
"The winners of the District 19 Congressional Artistic Discover Contest were announced on Wednesday at a reception held in Room J-117/118 in the Rush Library on the Lee campus of Florida SouthWestern State College. Cypress Lake High School junior Deanna Craig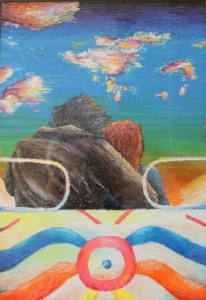 received third place for her oil painting depicting a couple enjoying a sunset from the top car on a Ferris Wheel.
"The painting is part of a series that Deanna is doing on the motif of fairs and carnivals. In this piece, a couple nestle together in the colorful car of a Ferris Wheel. "I decided to have them looking at a sunset for contrast," Deanna shares.
"The Ferris Wheel dates back 1893, and was actually the Chicago World Fair's answer to the Eiffel Tower. Conceived by George Washington Gale Ferris Jr., a 33-year-old engineer from Pittsburgh, it measured 250 feet in diameter, carried 36 cars that were each capable of holding 60 people, and was comprised of more than 100,000 parts, most notably an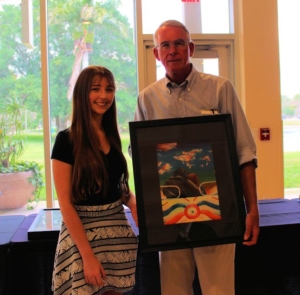 89,320-pound axle that had to be hoisted onto two towers 140 feet in the air. Launched on June 21, 1893, it was a glorious success. Over the next 19 weeks, more than 1.4 million people paid 50 cents for a 20-minute ride and access to an aerial panorama few had ever beheld. "It is an indescribable sensation," wrote a reporter named Robert Graves, "that of revolving through such a vast orbit in a bird cage."
"Deanna, though, is not a huge fan of Ferris Wheels. "I don't handle heights all that well," she chuckled at the District 19 Congressional art competition awards ceremony and reception. But she is a fan of the fun she and other people have at fairs, midways and carnivals. "Fairs and carnivals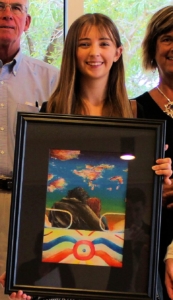 have brought me lots of joy throughout my youth and I want to share that with my viewers. That's why I'm doing a series on carnivals."
"Craig is no stranger to art shows and contests. She has participated in ArtFest's Art Under 20 for three years and currently has a work in the Future of Art exhibition at the Alliance for the Arts. She has also participated in the Dali Museum's statewide student surrealist exhibition in 2015. While she plans to study civil engineering at Clemson, she will nonetheless minor in art and pursue art as a hobby.
"As third place winner, Deanna's painting will be displayed in Congressman Rooney's Cape Coral district office. It was selected for this honor by Vino's Picasso owner Mercedes Price, Marco Island's Blue Mangrove Gallery owner Christie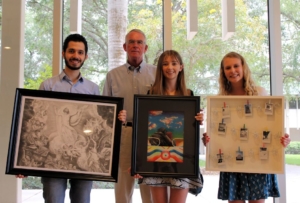 Marcoplos and Matlacha Island and Bealls artist Leoma Lovegrove, who judged the contest at the invitation of U.S. Representative Francis J. Rooney. The judges evaluated each entry on the basis of content (creativity & originality), quality (the technical execution of the work) and overall impression. The contest was open to all high school students residing in Congressional District 19. Emma Troyer took top honors, with Raja Al-Bahou in second place.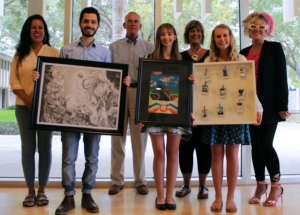 "The District 19 Congressional art contest is part of the national Artistic Discovery Contest that the United States House of Representatives holds each Spring. The Congressional Art Competition began in 1982 to provide an opportunity for members of Congress to encourage and recognize the artistic talents of their young constituents. Since then, over 650,000 high school students have been involved with the nationwide competition."
Hoped you enjoyed getting to know Deanna a little more. I sure did!