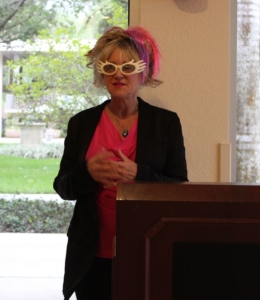 When Mercedes Price (Vino's Picasso), Christie Marcoplos (Blue Mangrove Gallery) and I selected the winners of the District 19 Congressional Artistic Discovery Contest, all we had to go on were the artworks submitted by our talented high school entrants. We chose Raja Al-Bahou in second place. He was interviewed at the awards ceremony by Southwest Florida art journalist Tom Hall. He provides a more personal look at Raja and his painting. Here's what he wrote:
"The winners of the District 19 Congressional Artistic Discovery Contest were announced on Wednesday at a reception held in Room J-117/118 in the Rush Library on the Lee campus of Florida SouthWestern State College. Raja Al-Bahou's graphite drawing titled Resurrection was selected in second place.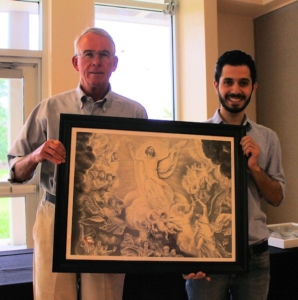 "'At this time, we really need another Renaissance,' proclaimed Al-Bahou, who credits Michelangelo as his inspiration for his time-intensive rendering of Jesus rising from the dead on Easter Sunday. While Michelangelo's influence is clear to see, the drawing shares attributes from other great painters of yesteryear. It possesses Agnolo Bronzino's compositional flair, the drama and usage of negative space of Peter Paul Rubens (whose Resurrection of Christ is part of a triptych that is located today in Antwerp) the beatific cherubs favored by Rembrandt van Rijn and Jacopo Veronese, and Paola Tintoretto's handling of draperies and fabric.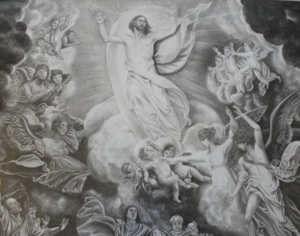 "Al-Bahou advocates for a return to classicism in contemporary drawing and painting because it is only there that artists are free to explore the types of emotions that are evident in the faces and demeanors of the cherubs, angels and humans who populate a composition like Resurrection.
"'Classical Art is mostly defined by the Renaissance era, a period in the 16th and 17th centuries when painting, sculpture and other art forms took on a refined and structural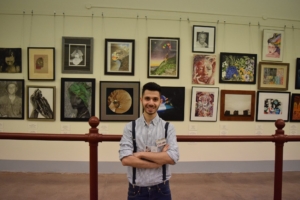 orderliness,' explains the Portrait and Figure Painters Society of SWFL on the home page of its website. 'The use of geometry and grids, rigorous discipline and the formation of schools of art and music was found mostly in the Italian genre. Michelangelo's works in oil and sculpture, for example, are as exquisitely detailed and emancipating today as they were then.'
"Concerned that present-day art schools and programs have abandoned the classics and relegated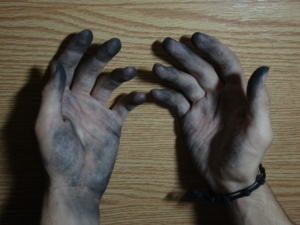 them mostly to museum and private collections, the Portrait and Figure Painters Society of SWFL offers instructive "art-talk" meetings, forums, workshops, exhibitions, promotions and other outlets for those practicing various forms of traditional art. It is there that Al-Bahou will find artists who share his conviction that the arts would benefit from a return to the style of the Renaissance and painters like Michelangelo.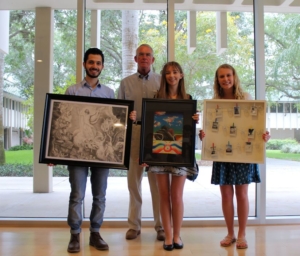 "Resurrection took first place in drawing in ArtFest Fort Myers' Art Under 20 competition in February. From Damascus, Syria and a student at South Fort Myers High School, Al-Bahou took first place honors in last year's District 19 Congressional Artistic Discovery Contest with a drawing of the birth of Christ. "With the Resurrection, I've come full circle," Raja said.
"Al-Bahou's short term plan is to pursue his two-year degree at Florida SouthWestern State College before going on to UCF to pursue pre-med studies. 'But art is my hobby,' Raja is quick to add. 'It is always something that I will do.'
"We certainly hope so."