Mercedes Price (of Vino's Picasso), Christi Marcoplos (owner of Marco Island's Blue Mangrove Gallery) and I were invited by U.S. Representative Francis J. Rooney to judge the entries he received for the District 19 Congressional Artistic Discovery Contest. Well, we met on Wednesday to look over the work and make our selections, but I have to tell you that judging an art contest, particularly one that's restricted to high school students, is never, ever an easy endeavor. Southwest Florida has an awesome amount of talent, and each of the entries was deserving of recognition. All three of us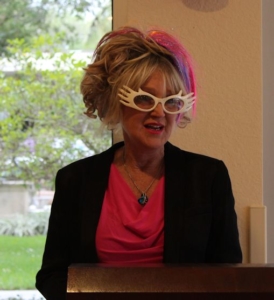 admired the efforts of each of the participating artists, and we hope all of them will continue creating and developing their art. Even if they've been drawing and painting from an early age, they're still just beginning their own everyday art adventure and, with persistence and tenacity, they can enjoy long and successful careers in art and any genre they choose.
That said, it was incumbent on us to pick a first, second and third. We evaluated each entry on the basis of content (creativity & originality), quality (the technical execution of the work) and overall impression. The contest was open to all high school students residing in Congressional District 19. Our choices had the benefit of being unanimous.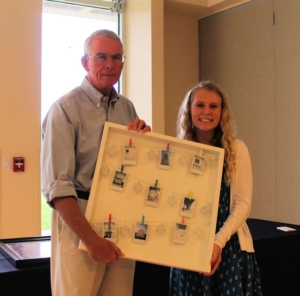 Top honors went to 14-year-old Emma Troyer for her mixed media work titled My Florida.
Second place was awarded to Raja Al-Bahou for his graphite drawing titled Resurrection.
Seventeen year old Deanna Craig received third place for her oil painting depicting a couple enjoying a sunset from the top car on a Ferris Wheel.
"I appreciate everyone for participating and am glad to know there is such an abundance of talent here in Congressional District 19," stated Congressman Rooney at the awards ceremony and reception.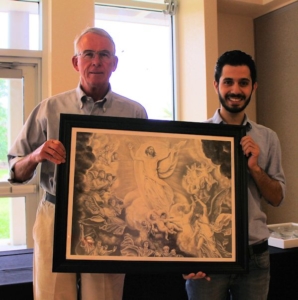 The District 19 Congressional art contest is part of the national Artistic Discovery Contest that the United States House of Representatives holds each Spring. Emma Troyer's winning artwork will be displayed for an entire year in the U.S. Capitol Tunnels along with artwork from across the country. On top of that, Southwest Airlines is providing Emma with two round-trip tickets to Washington, D.C. so that she and her mother, Kirsten, can attend the reception for the opening of the national exhibit.
Al-Bahou's graphite drawing and Craig's Ferris Wheel oil will be exhibited in Congressman Rooney's Naples and Cape Coral district offices.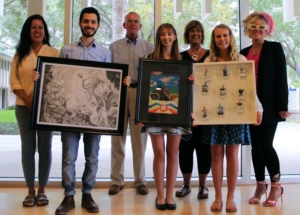 The Congressional Art Competition began in 1982 to provide an opportunity for members of Congress to encourage and recognize the artistic talents of their young constituents. Since then, over 650,000 high school students have been involved with the nationwide competition.