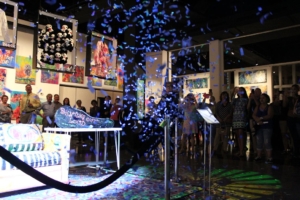 It's Throwback Thursday, and as I've said on Facebook, any day that involves a confetti canon is a gooooooooooooooooood day!
I use my confetti canon when I do live painting performances. I used it when I spoke on the subject of "making your life a work of art" at Florida SouthWestern State College. I used it when I hosted a rally for Congressman Francis J. Rooney. And I used it to perfection at the opening of my retrospective this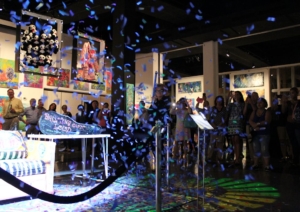 past January at the Sidney & Berne Davis Art Center.
During the opening, I shot it off every half hour from 6:00 until 10:00 p.m. By the end of the night, there was so much confetti on the art center's granite floors that it looked like a multicolored blizzard had torn through the place.
The use of confetti to celebrate special occasions dates back to the 1300s. Italian author Giovanni Boccaccio mentions the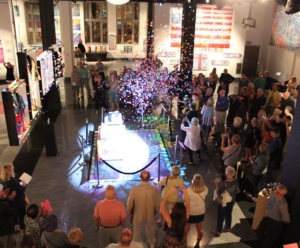 use of confetti in the Decameron, which he published beginning around 1313. But at that time, confetti was made of "candy-like confections originally made from honey and dried fruit as well as spices and, possibly, seeds or nuts."
Paper confetti was first used in 1885 as part of a New Year's celebration in Paris, France. This was done on the spur of the moment after a casino owner sliced up old New Year's decorations and tossed them at the next evening's celebrations.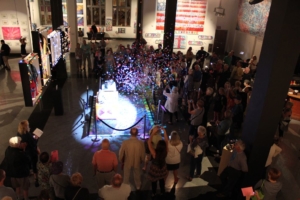 By 1891, the first confetti-making machine was built. In recent years, launchers were developed and contained PVC barrels that empty via compressed air or carbon dioxide.
No surprise here – New Year's Eve holds the annual record for most confetti tossed on a single holiday. Other occasions include sporting events, graduations, weddings, and various parades.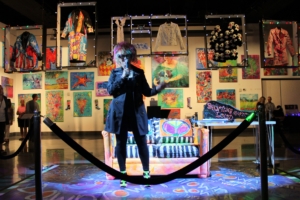 Times Square drops more than a ton of confetti during its New Year's celebrations. Confetti Master Treb Heining oversees the operation. He has held the position for over 20 years.
Heining doesn't use any special machines to complete his task. He and about 70 other people dump boxes of confetti from 8 different buildings for a full minute. A full cleanup crew spends several hours cleaning up after the festivities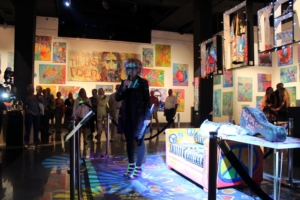 die down.
Fortunately, the Davis Art Center didn't make me sweep up the confetti. They were really great, both in the lead up to and during the opening of my retrospective. I hope you had the chance to see Palettes: Past Present and Pursuits. It was one of the two biggest shows to have ever been held at the Sidney & Berne Davis Art Center.