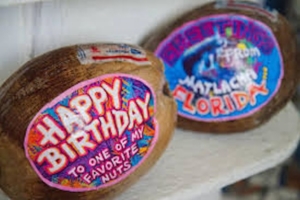 It's "Made in America Week," and I'm doing my part with my hand-painted coconut postcards from Lovegrove Gallery & Gardens.
They're real coconuts that grow in our botanical garden and fall from the trees. I splash them with images and colors from my imagination and send them to recipients all over the United States. They're so popular that they've been written up in newspapers and magazines, including an article that local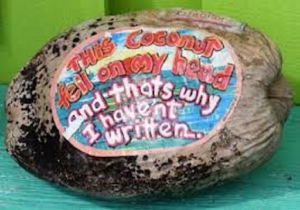 Fort Myers expert Gina Birch wrote in December of 2014 for USA Today titled "Fall in Love with Art at the Leoma Lovegrove Gallery."
"We want to build, create and grow more products in our country using American labor, American goods, and American grit," President Trump said at a White House event kicking off "Made in America" week on Monday. With my coconut postcards, I do all three – I grow the coconuts,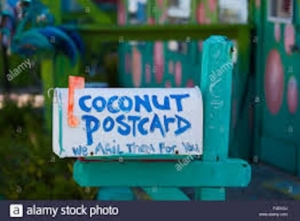 create the custom images and build the brand that's associated with them. What's more American than that.
In announcing "Made in America Week," the President and his team chose one company from each state that uniquely uses American goods, labor and grit. In Florida, that's Tervis Tumblers, and that's who provides the tumblers for my Bealls line of 16 and 24 ounce tumblers.
Tervis is All-American! It was formed in Detroit, Michigan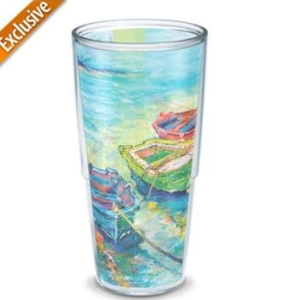 back in 1946 by a couple of engineers, Frank Cotter and G. Howlett Davis who were interested in creating a permanently sealed, double-wall tumbler as a way to keep hot drinks hot and cold drinks cold for longer. Combining the last three letters of each of their last names, Cotter and Davis christened the company "Tervis," and their innovative product has changed the drinkware industry forever.
But the story didn't end there.
The tall cylindrical tumblers soon captured the interest of an adventurous, sun-loving and entrepreneurial family who purchased the product rights to Tervis in the 1960s, and moved the company to their home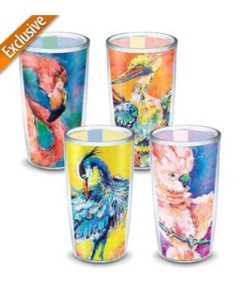 state of Florida to embrace the spirit of the sunshine life and all the outdoor activities the south has to offer. In the following years, Tervis improved and expanded upon the original design and introduced decorations, emblems and colors to create drinkware as unique as their consumers.
Today Tervis offers tumblers in numerous sizes, water bottles, sippy cups and wine glasses and a full complement of accessories. The third generation family-owned-and-operated business, now employs more than 900 people and is celebrating 70 years of Made in the USA success.
And it makes me smile that my Bealls line of Tervis tumblers not only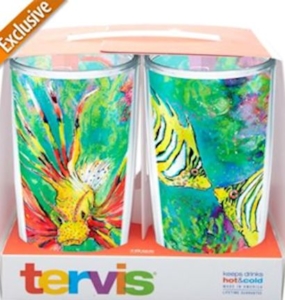 bear my images, but are Made in the USA.
I guess you could say that I'm coconuts for Tervis.
Shop Bealls for my Tervis tumblers, and call us at the gallery (239-938-5655) if you'd like to send someone a coconut postcard or come by and we'll help you make your own. Lovegrove Gallery & Gardens is a Matlacha Island landmark where the art is always hot and our garden in shady and cool.