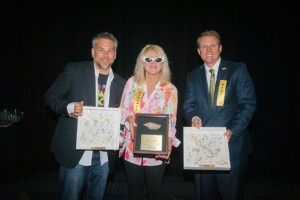 Estero-based art journalist Tom Hall writes for Florida Weekly, The River Weekly News and his art/indie film/ theater blog Art Southwest Florida and he wrote today the following about my impact on local tourism:
"Through her affiliation with Bealls, Matlacha artist Leoma Lovegrove has done much for local tourism. Each of the millions of Lovegrove products offered and sold by Bealls mentions Matlacha Island. Over the course of her four-year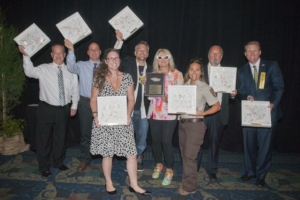 affiliation with the company, scores of Bealls customers have gleefully embarked upon a pilgrimage to visit the artist in her sunny island gallery and gardens or attend one of her Paint Out Loud performances at a local Bealls outlet. When they come, they don't just spend money at Lovegrove Gallery & Gardens or Bealls. They buy gas at an area service station, a meal at a local café or bistro, and shop the other galleries and boutiques that line Pine Island Road, Cleveland Avenue or downtown Fort Myers. Her success benefits the community's economy. Art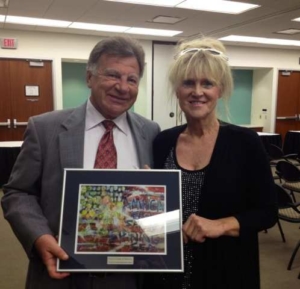 means business, whether on an individual or public scale.
"Lovegrove is no stranger to the interplay between art and tourism. She worked for years with the Lee County Visitors & Convention Bureau (VCB) to bring international tourism to Southwest Florida destinations. And two years ago, the VCB and Greater Fort Myers Chamber of Commerce Inc. honored Lovegrove during its annual Chrysalis Awards luncheon with its prestigious Junonia Award. Created in 2006, the Junonia Award recognizes individuals who have positively impacted the local tourism community by demonstrating unique capabilities, leadership, commitment, and dedication. Lovegrove was chosen in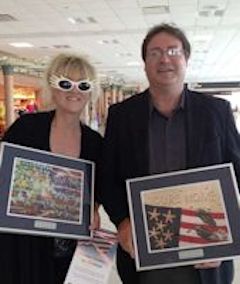 2015 for her tireless promotion of the destination for more than a decade and a half.
"In presenting the award to Lovegrove, Tamara Pigott, executive director of the VCB, described Lovegrove's contagious love of Florida that has been instrumental in encouraging tourism from around the world. "The VCB has enjoyed a long-standing partnership with Leoma in promoting our destination. I have personally had the pleasure of working alongside her on many of our national and international marketing programs," said Pigott.
"Lovegrove has been on the cutting edge for years in advocating for clean water here in Southwest Florida. As the vast majority of
tourists and winter residents come to Lee and Collier to enjoy our beaches and unspoiled ecology, water quality is of paramount importance. As a long-standing proponent for greater water quality in the Caloosahatchee River, Gulf of Mexico and waters surrounding Matlacha and Pine Islands, she has not only worked locally but travelled to Washington D.C. on behalf of Lee County residents. Her efforts in this regard were instrumental in her selection as a finalist for the Paulette Burton Citizen of the Year Award. The award recognizes a Lee County citizen who has provided outstanding civic contributions to Lee County Government and serves as a tribute to past and present civic activists who have devoted much of their time and energy to citizen involvement with Lee County Government.
"Given the foregoing, it's clear that every Southwest Florida resident and repeat visitor has a rooting interest in Lovegrove's continued success."