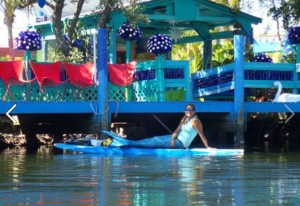 Matlacha has long had a fascination with mermaids. All seafaring cultures have mermaid tales. Although today Matlacha Island is an enclave of visual artists, musicians and authors, the people of our tiny island have made their living from fishing and boating since the sands of Matlacha were dredged up from the bottom of Matlacha Pass way back in 1927.
Not surprisingly, Matlacha Island is becoming known for its Parade of Mermaids, an annual gala that benefits From Our Hearts,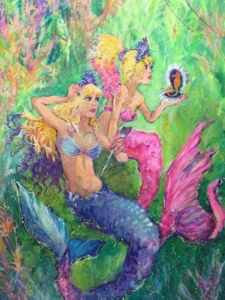 which assists women suffering from breast cancer. This past February, we held our fifth parade. But our first Celebration of Mermaids actually dates back to 2007. It featured Kate Dale, who was 'Best Mermaid' in the Coney Island Mermaid Parade. The following year, the Celebration featured former Wiki Wachee mermaid Jo DeShay of St. James City, who brought photos from her years of swimming, including movie shots with Esther Williams of Olympic medal fame.
Among our Mermaid Queens are talented local actress Dena Galyean (2015), Kristina Kell (2016) and the current Mermaid Queen, Brigitte Marie Ciccarello of Tampa. It was my pleasure in February to be one of the Celebration's judges. In addition to selecting Brigitte as queen, we gave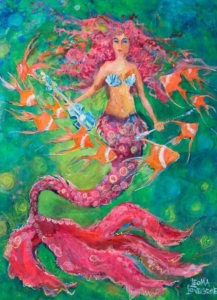 awards for Most Original Costume, Best Mer-man, and Best Mer-child.
During the parade, the mermaids walk to the crest of the bridge, where they throw an offering into the water, calling out an incantation to "The Sisters of the Deep." The mermaid offering has always been a sprig of rosemary, a fragrant herb representing memory, but last year, the mermaids added another item: a pair of Mermaid Slippers (slipper shells). Legend has it that the use of slipper shells enables mermaids to walk on land.
I've personally had a life-long love affair with mermaids. I've painted mermaids often, and I'm happy to report that Bealls likes them too. The painting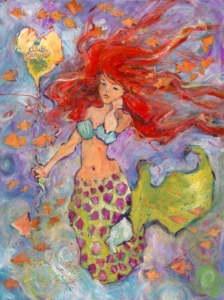 that's reflected by the second photograph is new, and it is among sixteen paintings that will be featured by Bealls on products that will be available beginning this Fall.
While the Bealls painting is not available for purchase, other mermaid paintings are. Some originals are available; others are available in prints. Just contact the gallery for information and pricing.
Lovegrove Gallery & Gardens is located at 4637 Pine Island Road, Matlacha Island, FL 33993. The phone is 239-938-5655.