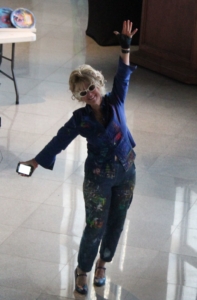 My retrospective, Palettes: Past Present and Pursuits, opens on Friday in the Sidney & Berne Davis Art Center. Because of the sheer number of works we're including in the show and the varied array of subjects (motifs), the exhibit is being hung salon style, meaning that there will be paintings and other artworks arranged both above and below eye level.
Shawn Ayotte is the one who's arranging the pieces and hanging the show for me. He is the SBDAC's Operations Manager and Curator. He's been hanging shows professionally now for eight years. He's a consummate professional and truly gifted. His arrangement is sure to be a work of art in its own right.
It will take three days to hang Palettes.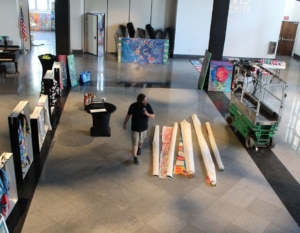 "Today is the 'beautiful mind day,'" says Shawn. "I just walk around, talking to myself, getting a feel for where everything should go and where each painting will work best in combination with the others. And after that, I like to go home, sleep on it, and then come back with fresh eyes."
Once he has everything set in place on the floor, the next step is to take measurements, place marks on the wall, and begin hanging the paintings. He starts with the large center pieces he's chosen for each wall and goes from there. This part of the process will take two full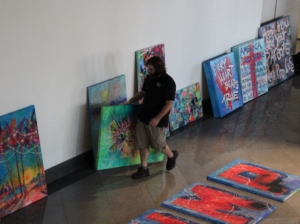 days, but by Thursday afternoon, the retrospective will be up and ready for Friday's opening.
At this juncture, I cannot tell you the total number of pieces that will be included in the retrospective. In addition to paintings, there are coats and jackets that I have hand-painted for various events, a number of my hand-painted high heels and shoes, and representative samples from my Bealls collection, including luggage, totes and casual wear. There are a plethora of other items, as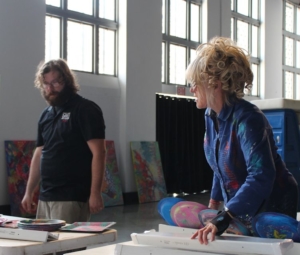 well.
Of course, sheer numbers don't tell the full story since some of the canvases I'm including in the retrospective measure 10 by 18 feet. Others are the size of interior doors. (That's not hyperbole. I actually painted several Paint Out Loud pieces on pre-hung doors!) There's even a floor that I painted one night during Art Walk while I was at the Franklin Shops on First.
Even so, Shawn estimates that Palettes: Past Present and Pursuits will be one of the top three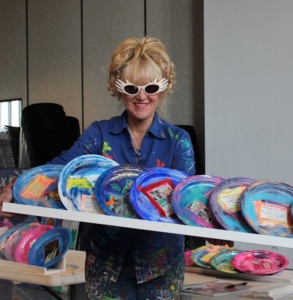 largest shows he's ever hung.
"G3 was the biggest I've done. It included work from four generations of artists in a single family," says Shawn. "It had about 425 pieces all together." Poor Shawn had to hang that exhibition in a single, 21-consecutive-hour day. Fortunately, he has the luxury of more time in connection with this show, which will ensure that the overall exhibition has a uniform, cohesive appearance. Even if Palettes does not end up having more total pieces than G3, it will cover more square feet than any show that Shawn has previously hung. Not only will every square inch of wall space be covered with art, we will also be suspending shadow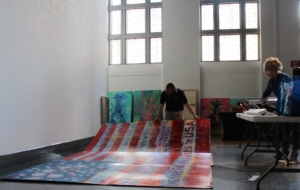 boxes filled with art from the ceiling and placing more pieces atop pedestals interspersed throughout the museum space.
There's so much art that we're even expanding into the Art Center's east wing.
"This show is going to fantastic," predicts Shawn, who really loves the colors that unify the various series of paintings I've done over the course of my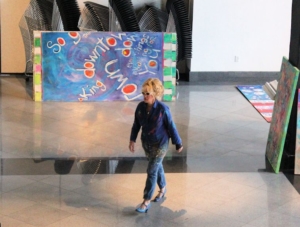 career. "Even though they're all in the same palette, the variety is impressive."
And I think that the variety of the subjects I've captured in acrylic on canvas and wood over the years is what's going to surprise people the most. For a number of reasons, many folks associate me with Florida themes such as wildlife, fish and landscapes of my beloved Matlacha Island. But there's a lot more to me than that, as the retrospective will reveal.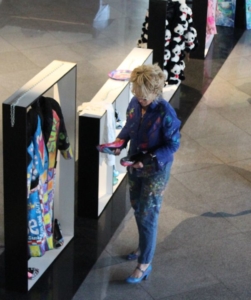 I hope you're planning on making the opening. And when you do, be sure to say hello and thank Shawn when you see him. He's the one with the beard.
Fun fact: Shawn is a bass player, with eclectic tastes. He plays everything from rock to jazz, blues, classical and country. He's even currently in a metal band.