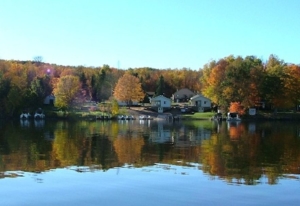 In yesterday's post, I mentioned Lake Gogebic in the upper peninsula of Michigan. If you haven't been, you're missing out.
Gogebic is a boundless, unspoiled wilderness with expansive waterways where you can kick back and unplug from the ceaseless distractions of everyday life. Located as far west as you can go in Michigan, it is within a few hours' drive of cities in northern Illinois, Minnesota and Wisconsin, providing a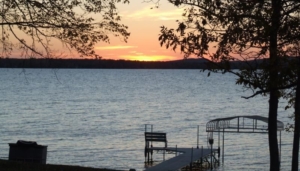 perfect path to reconnect with nature.
Of course, the biggest, baddest body of water in the area is Lake Superior. But there are inland lakes and rivers. At 13,000 acres, Lake Gogebic is the largest of the inland lakes. Canoeing and kayaking are favorite activities. Walleye, smallmouth bass, jumbo perch and pike reward folks, like us, who like to wet a line or two.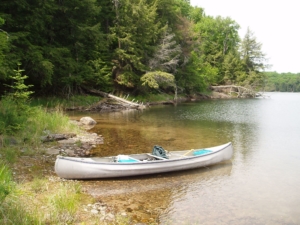 Most summer visitors escape to the Gogebic Iron Range, which made iron mining so important to this area, or they lace up their hiking boots and explore the million-acre Ottawa National Forest and the Porcupine Mountains Wilderness State Park. And with 100 waterfalls interspersed throughout the county, there's a photo op at the end of almost every footpath.
You can also explore the Sylvania Wilderness Area. It features spring-fed lakes and one of the few old-growth, north-woods f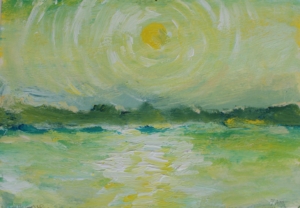 orests and a riot of colorful wildflowers in the spring.
In winter, downhill skiers and snowboarders experience "Big Snow Country" at renowned resorts of Indianhead Mountain Resort in Wakefield and Blackjack Ski Resort and Big Powderhorn Mountain in Bessemer. Cross country skiers glide down serene trails that weave throughout the county. And snowmobilers can zoom down 175 miles of groomed trails.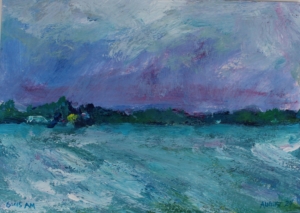 Of course, my favorite activity is painting. I did the Van Gogh-esque sunrise at 7:00 a.m. on August 21, 2003, and the purple-bluish pre-dawn lakescape at 6:45 a.m. a little more than a year later on August 24, 2004.