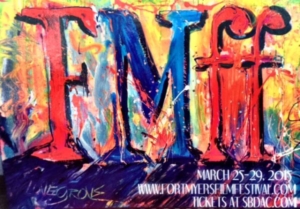 The Fort Myers Film Festival launches its eighth season in the downtown Fort Myers River District on August 7.
Didn't know that Fort Myers has a film festival? There are lots of folks who don't. Bit that's changing because over the course of its seven-year run, the FMff has evolved into a can't-miss, must- attend extravaganza for the hundreds of cineastes living in Lee, Collier and Charlotte counties who love independent films, revel in groundbreaking documentaries and consider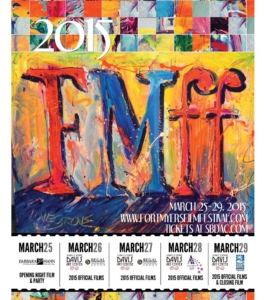 themselves connoisseurs of high-quality, top-notch film festivals.
And that's one reason I've sponsored the Fort Myers Film Festival over the years. In fact (and as the photos that accompany this post illustrate), I painted the poster art for the 5th Annual Fort Myers Film Festival in 2015, painted FMff founder and host Eric Raddatz live, and have served as a celebrity judge at the screenings the Fort Myers Film Festival holds on the first Monday of each month between August and the following February.
These first Monday screenings take place during an even called Thank God for Indie Mondays or T.G.I.M. for short. What Eric and his co-host, Melissa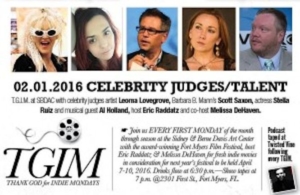 Tschari DeHaven, do is select a sampling of the short and short short indie films they've received during the previous month and ask three celebrity judges and the audience to weigh in on whether the films should be included in the full-fledged film festival. Some are hot, others not so much. But the post-screening discussion is always lively and insightful. If you've never been, you really should plan to attend. You'll have fun. I promise.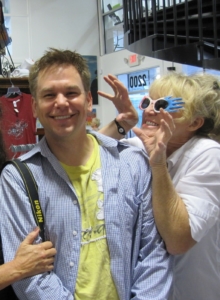 I have long admired what Eric Raddatz brings to Fort Myers through the film festival. As someone who's promoted tourism in Lee County and all of Southwest Florida for many years, I appreciate the effort that Eric makes to put Fort Myers on the indie filmmaking map. Known for its world-class swagger and support of local filmmakers, the Fort Myers Film Festival consistently attracts a vibrant, intellectual and edgy crowd to its events. And not only does he attract scores of movie lovers to Fort Myers for the film festival, he brings in hundreds of nationally and internationally-acclaimed filmmakers, cinematographers, actors and extras who might not otherwise have occasion to visit our community.
It's more than just name recognition. By exposing our own accomplished and aspiring directors, producers, cinematographers, videographers,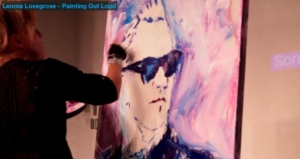 actors and more to the influence of these filmmakers, Eric is encouraging and inspiring untold numbers of local people to develop their own skills and talents in the art of movie-making.
Eric and I also got to share the spotlight at the Lee County Visitor & Convention Bureau (VCB) and the Greater Fort Myers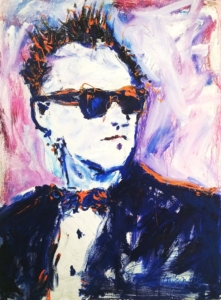 Chamber of Commerce's 6th Annual Chrysalis Awards' luncheon and trade show, where the Fort Myers Film Festival received a Chrysalis for Cultural Achievement and I was honored with the VCB's long-standing Junonia Award. Created in 2006, the Junonia Award recognizes individuals who have positively impacted the local tourism community by demonstrating unique capabilities, leadership, commitment, and dedication. The Junonia is a highly treasured shell and was selected as a symbol of the VCB's annual award because of its rarity and exceptional quality.
(P.S. In presenting me with the award, the VCB's Executive Director Tamara Pigott, described me as a tireless promoter of The Beaches of Fort Myers & Sanibel, citing my contagious love of Florida, which has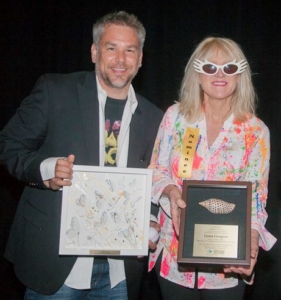 been instrumental in encouraging tourism from around the world. "The VCB has enjoyed a long-standing partnership with Leoma in promoting our destination. I have personally had the pleasure of working alongside her on many of our national and international marketing programs," said Pigott.)
So mark your calendars. The relevant first Mondays are:
August 7, 2017
September 4, 2017
October 2, 2017
November 6, 2017
December 4, 2017
January 1, 2018
February 5, 2018
Doors open at 6:30 p.m. and the films start at 7:00 inside the grand atrium of the Sidney & Berne Davis Art Center.
The Sidney & Berne Davis Art Center is located at 2301 First Street in the downtown Fort Myers River District. It's the neoclassical building with the Ionic columns that are bathed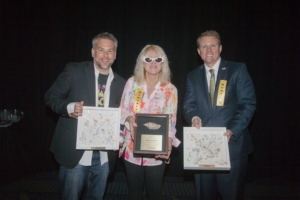 in an alphabet soup of lighted letters by the dual drummed bronze sculpture known as Caloosahatchee Manuscripts in the heart of the downtown Fort Myers River District.
You never know. I just might be there myself.