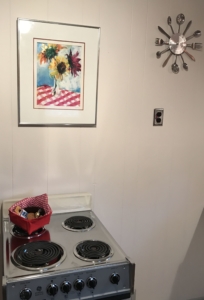 Mike and I are in Michigan. We're staying in a little cottage about 18 miles from Lake Gogebic in a town by the name of Bessemer. We'd normally stay in a family cottage right on the lake, but we're visiting with Mike's mom and at 96 years young, she can't climb stairs anymore. The bedrooms and bathroom in the family cottages are all upstairs.
So we found a cottage that's all on one level, and when we opened the door and walked inside, we discovered a big nostalgic bonus! Hanging on the wall was a print of a painting I rendered more than a decade ago. It was part of a one-a-day series I did in 2004 where I painted a 11 x 14 inch canvas every day.
Back then, I sold hundreds of prints to a gallery in Copper Harbor. The one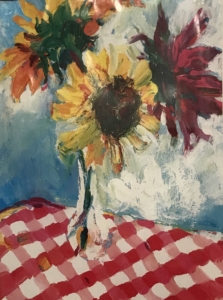 in our cottage is from that time and gallery. And here's the backstory: We used to pick the sunflowers that popped up along U.S. 28 and bring them to Margaret. We'd all enjoy them in her red gingham lakeside kitchen. We were so happy to see the art hanging in the cottage's kitchen. Margaret's beloved little kitchen lives on, but we get to keep the memories.
And that's my Throwback Thursday post!