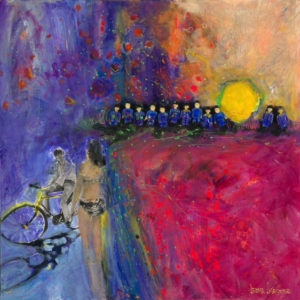 I love to get nostalgic about my childhood, family, old friends and pop culture trends from the past. I also like to reflect back on vacations and trips that my husband and I have taken. Don't you?
Well that's the impetus behind Throwback Thursdays. As I'm sure you know, Throwback Thursdays are all the rage on Facebook, Twitter, Instagram and other social media sites, and have been for quite some time. But do you know where the term originated?
More than a decade ago, a sneaker blog called Nice Kicks began posting photos every Thursday of old basketball footwear. It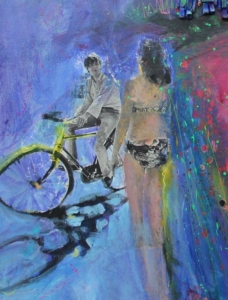 titled the series "Throwback Thursday." The name stuck and the idea eventually spread to Instagram, where users post old photos with an array of hashtags like #TBT, #Throwback Thursday and #Throwback. From there, it spread to Facebook, Twitter and Tumblr.
Old photos are by and away the most popular topic for Throwback Thursdays, but old songs are a close second. So with that in mind, I'm paying tribute on this Throwback Thursday to Good Day Sunshine, one of my favorite songs to wake up to in the morning.
Paul McCartney wrote it at John Lennon's house in Kenwood on a sunny day in late May or early June. Paul later said that he was inspired to write a song as carefree and upbeat as the Lovin' Spoonful's Daydream. He wanted to evoke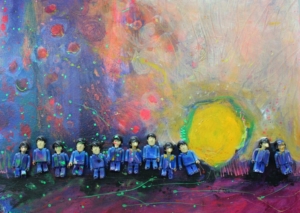 "the same traditional, almost trad-jazz feel." He definitely succeeded, wouldn't you agree? Interestingly, Lovin' Spoonful songwriter John Sebastian had no idea that he and the Spoonful had inspired the song.
I interpreted the song on canvas some time ago. I tried to emulate this same carefree, upbeat feel in my painting. Notice the casual, easy-going manner in which Paul straddles his bike as he encounters the bikini-clad dark-haired girl standing before him. Both the bike and the girl reflect the sun, with both casting amorphous,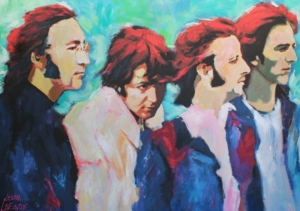 blurry reflections on the rainy-soaked roadway. As the sun breaks through the stormy clouds, everything is reinvigorated. Even the reds and purples of the strawberry field emanate a vibrant, positively-charged frequency or vibration.
This painting also has a sculptural aspect. The blue Beatles spanning the horizon line are three-dimensional figures that complete the picket fence that divides the sky from the foreground.
Do you have a favorite song to wake up to? If so, post it on my Facebook timeline. Curious minds would like to know.