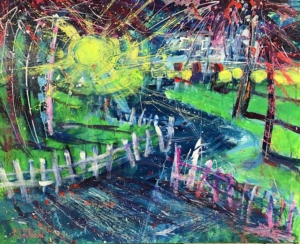 For Throwback Thursday, I focused on Facebook on the studio tour I did at Broadway Palm Dinner Theatre last year, but as I've already posted about the "My Studio" show I'll be doing at Broadway Palm in January, I'm looking back on my blog to a painting I did for Canterbury School last year by the name of Arts Crawl.
Arts Crawl is a mixed media painting on Lucite panel that measures 34 by 36 inches. In case the term is new to you, arts crawls are held in art districts all over the country, including right here in Southwest Florida. During an arts crawl,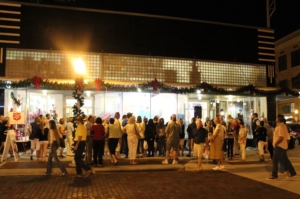 participating art galleries, artist studios and other art stops put on exhibitions, painting demonstrations and meet-and-greets with painters, sculptors and other artists. It's a good way to see a wide array of art, meet a diverse group of artists and define your own artistic tastes and sensibilities.
Downtown Fort Myers has an arts crawl. It's on the first Friday and Saturday of each month. I participated for many years (until my schedule became so hectic), and there's one in the SoCo Cultural District on the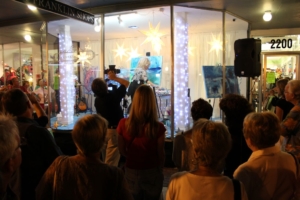 second Saturday of the month that features the Alliance for the Arts, Broadway Palm Dinner Theatre and a number of other galleries and art venues. The Naples Art District has theirs on the first Wednesday of each month, and there are smaller arts crawls throughout Southwest Florida as well. If you haven't been to one, you should give it a go. You can also do your own self-guided arts crawl right here on Matlacha Island. But, of course, plan on starting and ending your tour here at Lovegrove Gallery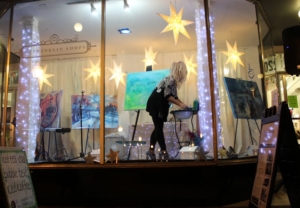 & Gardens.
My Arts Crawl painting was auctioned off at the 2017 Paint the Town extravaganza that Canterbury hosted this past April 1st. Presented by FineMark National Bank & Trust, the event featured dinner, dancing, a philanthropy spotlight presentation, and a live and silent auction, with music by Alter Ego. I support Canterbury because over the years, it has built a reputation as such a well-respected educational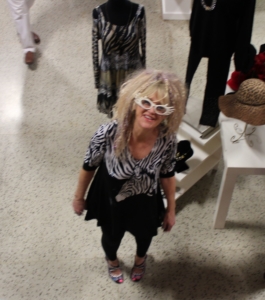 institution.
For nearly five decades, Canterbury School has demonstrated an unwavering commitment to academic excellence, preparing students to excel in the world. From its first faculty member in 1964, Canterbury's outstanding faculty has nurtured the individual potential in each student. They challenge, support and recognize the individual learning journey of a diverse student body. Today's mission of academic excellence, leadership, character and service are evident by the contributions of over 1000 Canterbury alumni all over the world.