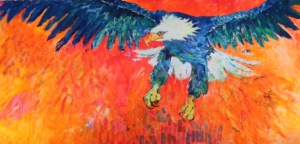 The second painting that's in a public art collection is an eagle I rendered as part of the Remember 9-11 commemoration I orchestrated in 2011. The gift grew from a conversation I had with FGCU President Wilson G. Bradshaw at a reception where the painting was displayed.
"The eagle embodies a spirit of strength and freedom that we value at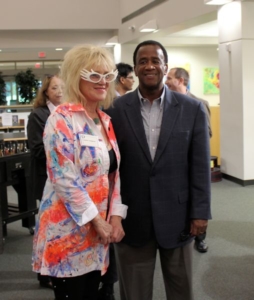 FGCU and instill in our students," Bradshaw said at the dedication. "Leoma Lovegrove's striking work of art is sure to inspire those who view it for many years to come."
Donations of artwork, as well as monetary gifts to the university, are administered by the Florida Gulf Coast University Foundation. The FGCU public art collection consists of both monumental sculptures which include most notably Albert Paley's Cross Currents, Robert Roesch's Transition 2012, Brower Hatcher's Archway, Depend du Soleil and Whatever You Say Dear by Mark Fuller, Clayton Swartz's Skyward, and Verve by fused glass artist Michele Gutlove.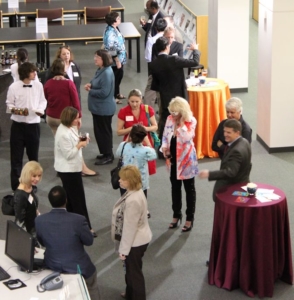 It also has an impressive portable works segment which includes prints by James Rosenquist, embossings by Josef Albers, more than 70 prints created by Harvey Littleton and other artists using vitreography at his studio in Spruce Pine, North Carolina, one of Robert Rauschenberg's transfer solvent prints, Robert Cottingham's Rolling Rolling Stock Series No. 7 for Jim, a series of Salvador Dali Currier and Ives prints, a painting by the late Carl Schwartz, photographs by Karen Glaser and Clyde Butcher and batiks by Muffy Clark Gill.
It is an honor to be included among works by such an elite group of artists. But Florida Gulf Coast University recognizes the importance of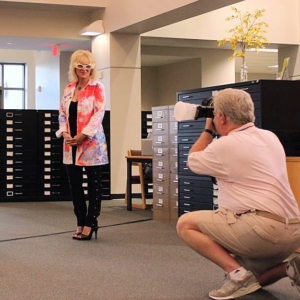 Remember 9-11 Tenth Year not only in the context of my Paint Out Loud series of paintings, but to the community of Southwest Florida. You'll find my painting in Library East on the FGCU campus, where I hope it will inspire our future leaders in science, business, industry and politics for many, many years to come.