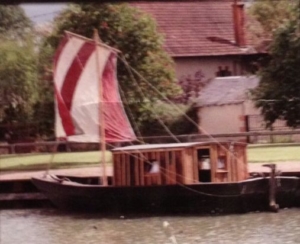 It's no secret that I'm fond of the water. I've sailed with Captain Jack, painted on the water in and around Matlacha Island, and did an entire series of paintings for Bealls on a house boat on the Bradenton River. Called Float My Boat, images from those paintings can be found on a host of products from casual wear to totes and household goods. But my greatest water-based painting experience occurred in 2014 when I enjoyed the high honor and privilege of painting on the Seine River in an exact replica of Claude Monet's floating studio.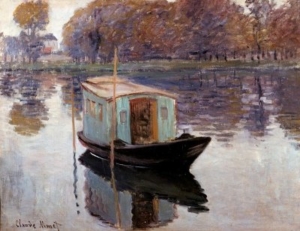 Okay, let's go back in time more than 140 years. In 1874, the Father of Impressionism had an epiphany. He decided that if he was going to focus on the ways in which light affects color and form, he had to abandon his studio and paint outdoors. He was so adamant about this that he vowed he'd never again paint a single stroke except in front of the motif, and he urged his contemporary Impressionists to do likewise.
A short time later, outfitted a little boat with an umbrella and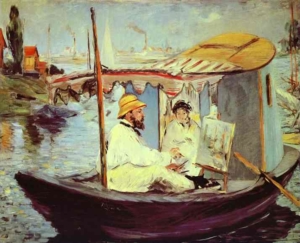 easel and set out along the Seine to explore the moods and the effects of light on the river scenery. After that, he invited Edouard Manet to come along with him on a painting excursion. Manet painted Claude working in the boat, and that painting now hangs in the Neue Pinakothek in Munich.
Several years ago, a gentleman by the name of Captain Bertrand de Vautibault decided to have a replica of Monet's floating studio built so that modern-day Impressionists could replicate Monet and Manet's experiences. The studio boat is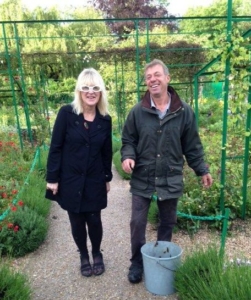 named Le Bateau-Atelier and it is docked at the former home of another great French painter, Pierre Bonnard, which is located near Monet's gardens in Giverny, France, where I've painted each year (sometimes twice a year) for more than a decade.
Well, during my time in Monet's garden in May of 2014, the head gardener, James Priest, asked me if I would like to paint aboard Le Bateau-Atelier. Mais oui, I shouted, and he set it up for me. But I didn't just get to float along the Seine in the boat. They dropped anchor for two hours in order to give me the chance to do some plein air painting.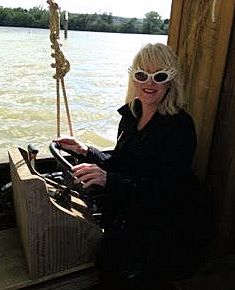 And that's how I became the first American to paint on Claude Monet's floating studio!
Having painted on a replica of Monet's boat on the Seine, I can certainly see why he enjoyed the experience so well. And I'll always be grateful for the opportunity my gardener friend and Captain de Vautibault gave me to follow in Claude Monet's wake.
And I'm happy to report that I'll be returning to Giverny, France and Monet's gardens again this May. So follow my blog for more exciting stories of my everyday art adventures painting in France.