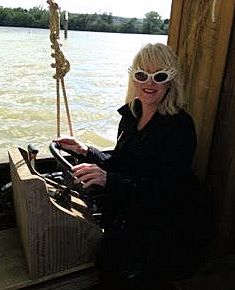 In my last post, I described becoming the first American to be invited to paint on a replica of Claude Monet's floating studio, Le Bateau-Atelier. Making the most of my three hours on board, I created 20 paintings on cardboard by the time we arrived back at the former home of famous French painter Pierre Bonnard, where the vessel is docked. I even signed the boat!
The gentleman who made Le Bateau-Atelier also owns Bonnard's home. His name is Captain Bertrand de Vautibault, and when he saw my paintings, he did something I couldn't believe. He invited me to exhibit them in his home. And thus, I also became the first American to exhibit artwork in the home of Pierre Bonnard.
I'm a fan of Pierre Bonnard, probably because he was known as the most thoroughly idiosyncratic of all the great 20th century painters. His forte was his unique use of color, complex imagery and intimate domestic scenes. "It's not just the colors that radiate in a Bonnard," writes art critic Roberta Smith. "There's also the heat of mixed emotions, rubbed into smoothness, shrouded in chromatic veils and intensified by unexpected spatial conundrums and by elusive, uneasy figures."
In other words, he made his own rules, an approach to art and life to which I aspire every single day.