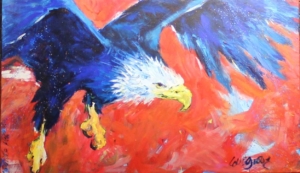 Among my proudest accomplishments are the contributions I've made to public art collections in Southwest Florida. For example, the City of Fort Myers public art collection holds in its portable works collection my 3 x 5′ painting Freedom.
The painting hangs in City Council Chambers at city hall in downtown Fort Myers and is included in cultureNOW's Museum Without Walls compendium, an online public art registry that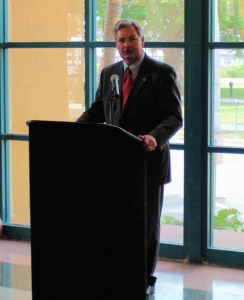 encompasses more than 11,000 sites and 21,000 images of public artworks from across the country.
I painted the canvas live during the preliminaries of the Second Annual Southwest Florida's Got Talent Contest held July 25, 2010 at the Edison Restaurant in the Fort Myers Country Club on McGregor Boulevard. In the time it took Leann Rimes to belt out God Bless America, I painted the bald eagle in front judges Randy Henderson, Mayor of Fort Myers; Fort Myers Chief of Police Douglas Baker; Pam Cronin, Vice President of Fund Stuff at the Shell Factory; and "Wild Bill" Woods of Fox-TV's Morning Blend. I left the beak and feet for the end. As the song was ending, the audience let out a gasp when they recognized the eagle.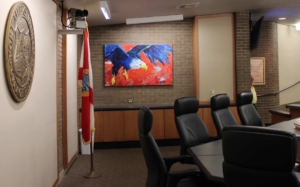 I donated Freedom to the City of Fort Myers during a city council meeting on November 15, 2010. I met the mayor before the contest and felt he was very patriotic. Because of that, I wanted the city to have the art under Mayor Henderson's watch.
Visit my blog tomorrow and I'll tell you about another work of mine that's in a public art collection.