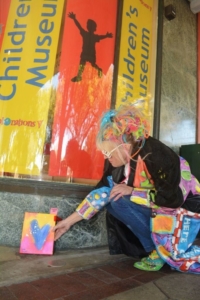 Every so often, when and where you least expect it, I engage in random acts of art kindness. It involves leaving works of art in plain view for people to find, take and enjoy. I've spread random acts of art kindness in this way from Champagne, France to Dollywood and Bradenton to Naples. Artists don't normally do this kind of thing, but people have been so good to me, I just want to give back.
For example, in January of 2015, I placed 28 heart paintings throughout the city of Lakeland. I was scheduled to appear in Bealls' Florida booth at the Snowbird Extravaganza in the Lakeland Center. I came up a day early to give my art away. I leaned paintings against archways, sat several on the sidewalks, and hid a few inside potted plants. Then I went about my business while the people of Lakeland stumbled across the artworks as they went about their daily routines.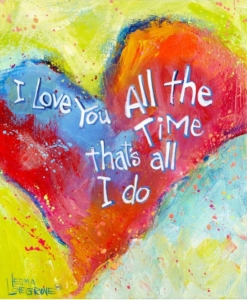 One of those folks was Jordan Wieneke. She was walking to work at Fresco's Bakery and Bistro when she stumbled across one of my hearts in a plant outside the restaurant where I was eating breakfast. "I thought about it for a second," Jordan said later. "Like, should I take it or not? Is this a joke?"
But it wasn't a joke, and while I was in Lakeland, I met the mayor, gave him one of my signature neckties and donated a painting of a swan to the city. The mayor told me that he loves the idea of giving back to people in this way and hopes others will do likewise. "I like that we've got someone who's willing to step up and lead in that area," he said. "We don't have a lot of that kind of thing going on, but I think you'll see more of it once she sets the example for us."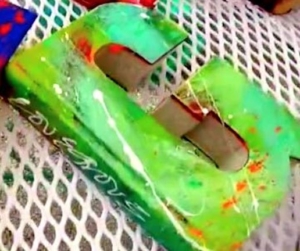 I've done this at number of Bealls stores as well (for example, at the Bealls in West Bradenton, East Bradenton, South Venice, Englewood, Port Charlotte, North Fort Myers, Cape Coral, East Fort Myers, South Fort Myers, Bonita Springs, North Naples and Naples). But with Bealls, there was a twist. I only left a single Leomatized letter (a re-purposed Reader's Digest condensed hardcover book published between 1950 and 1989 that I cut into the shape of a letter of the alphabet) in each store. The lucky shopper who found it not only got to keep it, but they received a $50 Bealls gift certificate, as well.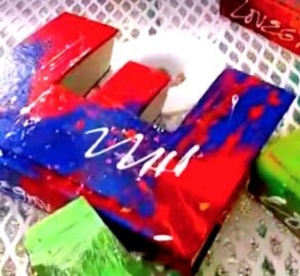 I don't always leave heart paintings or book art. Sometimes I send painted coconuts out into the world via random acts of art kindness. And just the other day I put the vintage bicycle I've had on display out in the gardens on the curb as a random act of art kindness. It was snatched up in 3 minutes and I went live on Facebook as it happened. The bike is significant for another reason. It was my muse for Beach n' Ride, one of the 16 paintings in my Florida Floats My Boat series and one of the four paintings just acquired by The Marietta Museum of Art & Whimsy for their permanent collection.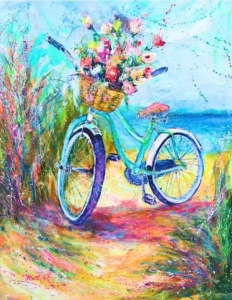 I do have a confession to make. I normally don't just plant the art and walk away. I enjoy hiding behind trees or cars to watch the reactions of the people who find my paintings. I not only hope it brightens their day, I actually pray over them and ask that my art blesses them. You never know what's going on inside a person's life. Maybe they're having a bad day … dealing with a health scare or financial woes or grieving some loss. So I pray that they'll be blessed by it and it will make them feel good for a little while.
Like putting a message in a corked bottle and throwing it in the sea, leaving random acts of art kindness is an adventure that continues after I leave it. I don't know where it's going to end up … although sometimes people send me an email or post on Facebook letting me know they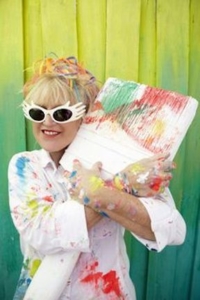 found my art and thanking me for it. I treasure those messages.
So if you've found one of my artworks and haven't contacted me, I'd love to hear from you. And whether I've heard from you or not, if you've found one of my random acts of art kindness, I hope you'll pay it forward and do something nice for someone else too.