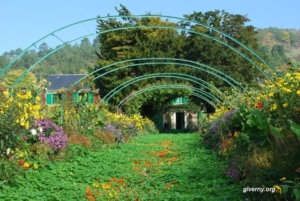 For some time now, I've been lucky enough to paint in the gardens of Claude Monet in Giverny, France. I'm returning there later this month and will tell you all about my trip as it takes place. But let me tell you this morning a little bit about the beautiful gardens that Monet planted and maintained between 1883, when he and his family moved there, and his death in 1926.
There are actually two separate gardens. The one that's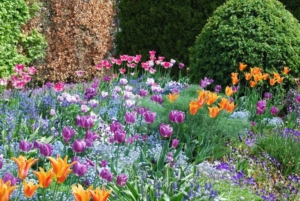 popularized in some of Monet's most famous paintings is the water garden with its trademark Japanese bridge. But there's also a garden in front of Monet's house that is nothing short of stunning.
The front garden covers nearly 2 ½ acres (in terms of French standards of measurement, it is one "hectare" in size), and it is subdivided into two flowerbeds by a central alley that is spanned by green iron arches on which climbing roses grow.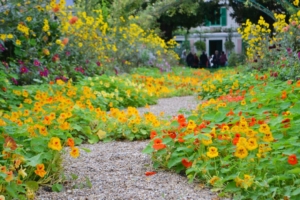 Each flower bed contains clumps of flowers of different heights that provide color, texture and volume. Monet did not like too much order. He grouped tulips, irises, oriental poppies, peonies and hundreds of other flowers based on their color and then left them to grow freely and naturally. Messy but balanced. Untamed and a bit slapdash. Monet and I were kindred souls.
He spared no expense on rare breeds and varieties. "All my money goes into my garden," he once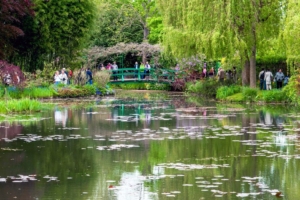 quipped. "But im in rapture," he quickly added.
The water garden was added in 1893, when Monet purchased the land on the other side of the road. There's a babbling brook running through this piece of land that is an offshoot of a tributary of the Seine River. The first thing Monet did after buying the property was to dig a small pond. The people living in the vicinity were irate and tried to stop him. They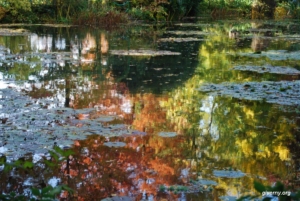 heard that Monet was planning to populate the pond and surrounding land with all kinds of strange plants and were afraid they'd poison the tributary and the Seine.
Fun fact: although Monet never visited Japan, he based his designs of the water garden on Japanese prints he collected.
All sorts of wonderful trees and plants ascend from the curved, asymmetrical banks of the water lily pond, including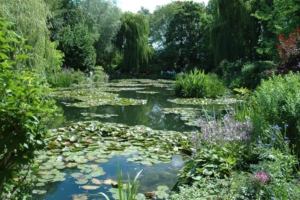 stands of bamboo and an amazing weeping willow on one side of the Japanese bridge that's covered with wisteria. Of course, the bridge is a recreation. The one Monet had built crumbled into oblivion years ago. The house too fell into disrepair following Monet's death and was shell shocked during the bombings that occurred throughout World War II. But it too has been restored to its original grandeur and you can tour the interior along with the grounds.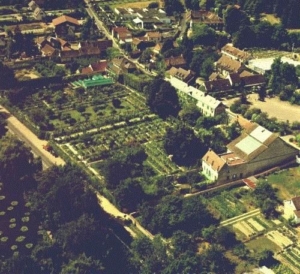 More than 500 000 people visit Monet's gardens every year, but only a select few are allowed to paint there. I feel both honoured and privileged to be among that group, and returning to Giverny is a high point each and every year.