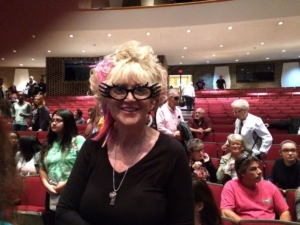 My trip to Merrillville, Indiana made the news up there! Here's an excerpt of what a story that appeared today in The Times of Northwest Indiana:
"It was Leoma Lovegrove Day at Merrillville High School last week when the 1971 Merrillville alum turned renowned artist visited the school for the day.
"Lovegrove, in her signature glasses, was met at the front door with a rousing greeting by the band and cheerleaders before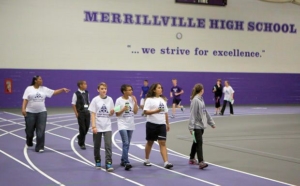 moving into Reinhart Auditorium for a presentation to students.
"More than 700 students in grades nine through 12 crowded the auditorium, along with teachers, staff, administrators and school board members.
"On stage, Lovegrove kept students and staff laughing, clapping and, at times, on their feet dancing as she spoke to t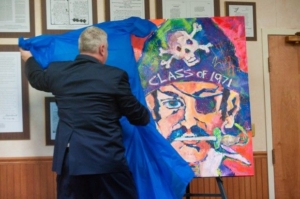 hem about her days in high school, her career and world travels.
"Merrillville sophomore Jeremy White, who sang with the choir, was up with dozens of students dancing as Michael Jackson's "Man in the Mirror" played while Lovegrove painted on stage.
"'I really enjoyed the presentation,' White said. 'She's very inspirational.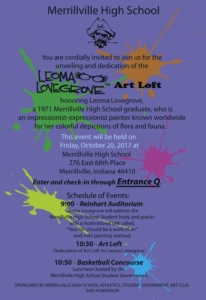 She paints how she feels and she used music as she did it. It was really impressive.'
Several members of Lovegrove's family attended the presentation, and she asked her brother, Tom Lovegrove, who graduated from the high school in 1970 and was named Mr. Football then, to throw the football to Merrillville senior Michael Shell, the 2017 Mr. Football, who caught the ball to the thunderous applause of students.
Lovegrove said she is honored and humbled that Merrillville school leaders invited her to visit the school and renamed the school's art loft after her.
Click here to read the rest of the story!