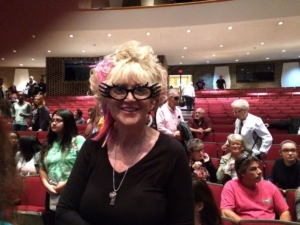 So a quick update on Leoma Lovegrove Day and my trip to Merrillville High.
As I told you yesterday, Mike and I had a once-in-a-lifetime day. I imparted some pearls of wisdom, painted live from the floor and even played my harmonica during my Paint Out Loud performance. And hearts were the theme of the day.
After my talk, the ensuing reception and lunch, I got to paint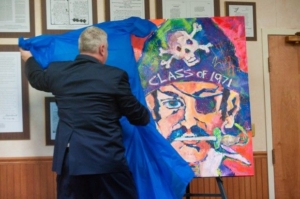 with the art kids in the newly-dedicated Leoma Lovegrove Art Loft. It was an eye-opener for us both. They were so energetic, enthusiastic and excited. And they were flabbergasted that when I paint, I often use my fingers and palms.
Several of the kids teased that they no longer use their fingers when they paint. "Why not?" I challenged. And sure enough, by the end of the session, they were all using their fingers and hands. If Bob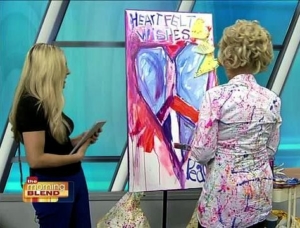 Rauschenberg taught us anything, there's no single right way to create a work of art. He incorporated found objects into his artworks. And he employed a range of novel media and techniques. So in addition to paint brushes, palette knives, squirt bottles and the like, hands and fingers are totally alright.
And what did we paint? Hearts, of course! We painted more than 100 hearts on 10" by 10" canvases. They're not part of the school's permanent collection, but that doesn't mean the art k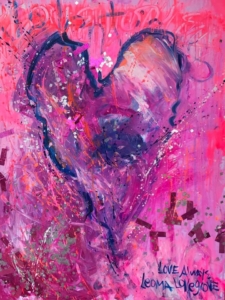 ids will hang the canvases side by side or even salon style. I told them to use the hearts to make one or more larger works of art. They might collage them all together, or make them into cubes or other geometrical forms. Guess I'll have to go back some time to see what they did.
In addition to the hearts we created, I took hundreds of heart-shaped pieces of paper with me and invited the student, their teachers and the staff to jot down on them their heartfelt wishes for peace. They did not know about Yoko Ono's Imagine Peace Tower in Iceland, but they know about it now. I'll be delivering their heartfelt wishes for peace to the tower when Mike and I visit Iceland later this year. [Call the gallery if you'd like to write out a heartfelt wish for peace for me to take along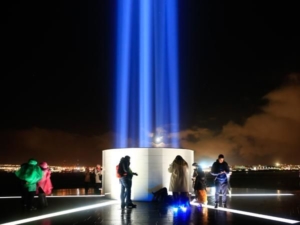 as well.]
The third heart was mine. While I certainly strove to inspire the students, teachers and administrators I met, they inspired me right back. They showered me with love, and I'll always remember and be grateful for that. It was simply AMAZING!
[If you want to know more about the Imagine Peace Tower and my Heartfelt Wishes campaign, check out my posts of October 10th and 11th.