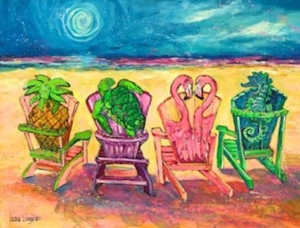 Do you have a favorite kind of beach chair? I'm fond of Adirondack chairs, as you can see from this painting, which is part of my Florida Floats My Boat series.
The first Adirondack chair was made in 1903 by a guy named Thomas Lee. He was searching in vain for comfortable outdoor furniture for his country cottage in Westport, New York, which is near, you guessed it, the Adirondack Mountains in upstate New York on the banks of Lake Champlain.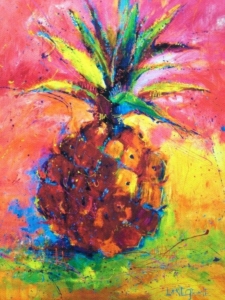 Of course, the backs of my Adirondack chairs are decorated by figures that are uniquely identified with Southwest Florida. I've written about seahorses, flamingoes and sea turtles before, but the one that may surprise you the most is the pineapple. Pineapples are not the sole property of Hawaii. It was common and popular in this region of the country that when the town of Fort Myers was incorporated in 1885, a pineapple in full bloom was adopted as the town's official insignia and included in the town seal. The pineapple was chosen for this honor because it was considered the fruit of all fruits in the Land of the Caloosahatchee, and almost every home had its own pinery.