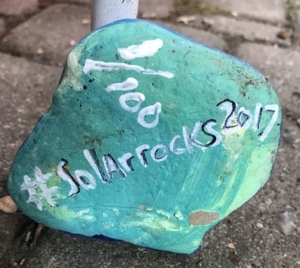 In my last post, I told you about my Solar Eclipse series. Well, I'm also painting 100 solar rocks and dropping them at indiscriminate locations from Ohio to Kentucky in honor of the eclipse.
I will take a picture and post where the rock is the minute I put it down. All I'm asking the people who find the rocks to post their names on Facebook or this blog along with their story about where they were and what they did during the eclipse.
What fun!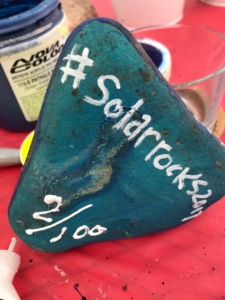 By the way, Mike and I made reservations two years ago in Park City, Kentucky. We'll be right in front of Mammoth Cave National Park during the eclipse. As the name infers, Mammoth Cave National Park is home to Mammoth Cave, a long cave system of chambers and subterranean passageways. One of the trademark sites within the cave is Frozen Niagara, which are waterfall-like flowstone formations. Another is Gothic Avenue, its ceiling covered in 19th-century visitors' signatures. Trails take in other park features like the Green and Nolin rivers and the sinkholes of Cedar Sink.
I'll have lots to share between now and August 21st, so come back often. It's going to be a sizzling summer.