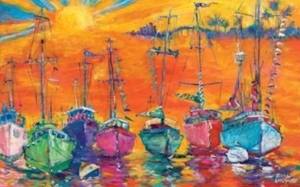 I read today that ArtFest Fort Myers is now accepting entries into is 2018 poster/t-shirt art competition. I had the honor of winning that contest two years ago with my painting Flotilla. Flotilla enabled ArtFest to win not one, but two awards from the Florida Festival& Events Association Convention.
"Leoma captured the essence of our downtown waterfront with her signature vibrancy and unique style and she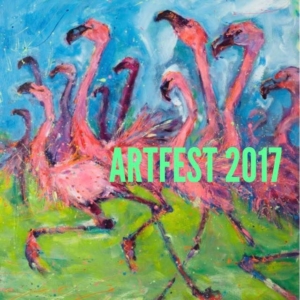 created quite a sensation amongst our patrons," said ArtFest Executive Director Sharon McAllister about Flotilla.
I'm proud to say that proceeds from sale of the poster and T-shirts supported ArtFest Fort Myers' art education outreach programs, with a portion of the poster proceeds also supporting The News-Press "Newspaper in Education" program. In fact, I took a bunch of the T-Shirts that didn't sell during the festival and sold them in Lovegrove Gallery & Gardens, raising $2,000 more for ArtFest and its programs.
Last year, ArtFest chose my painting Flamingo Crossing for its Publix Run to the Arts T-shirt. Flamingo Crossing was available in a limited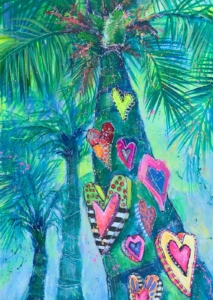 edition print at my booth at ArtFest. I could not have been more thrilled to watch hundreds of runners flying decked out in my T-shirts. It was quite a site.
Right now, another of my designs is a finalist for Naples Illustrated's Naples Charity Register contest. I hope you'll help me win. Visit this site and register your vote. The voting closes June 9.