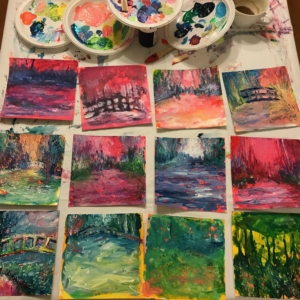 After a few days of unexpected travel and rest, I finally got out my paints. First stop ….. Monet's Japanese bridge.
I love to paint series because it makes me look beyond the subject and focus on what really makes the bridge important in the painting. Other than the slight curve, the bridge is quite plain. I think Monet painted it green so it would blend into nature and not distract. But we all know, you don't come to Monet's garden and leave without painting the bridge.
My friend, Rowan, from Paris visited us this weekend and I gave her a quickie lesson and we painted the bridge together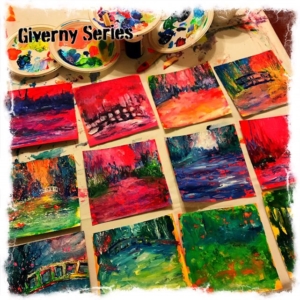 in 45 minutes. She is thrilled to take home her new masterpiece.
My bridge series is small – just 9 inches square. There are 12 renderings in in the collection. It would be terrific if a single collector would buy all twelve – as it seems a shame to separate them. That's it for now from Giverny, France!
Interested in the series? For more information, including pricing and availability, please call the gallery. The telephone number for Lovegrove Gallery & Gardens is 239-938-5655. We're located at 4637 Pine Island Rd, Matlacha, FL 33993.