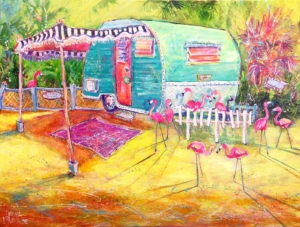 Last year, I created 16 paintings for Bealls to use in my designer line of products, which includes tees, tanks and other tops; nightgowns; totes; beach umbrellas, chairs and towels; watches and jewelry; and sundry housewares. Among these is a painting I call My Glamper. It was inspired by my colorfully-wrapped, trademark mobile artist studio.
When I am not using the mobile studio, it is parked in the gardens behind the gallery here in Matlacha. But whenever I paint out loud, I take the studio with me. If you've come to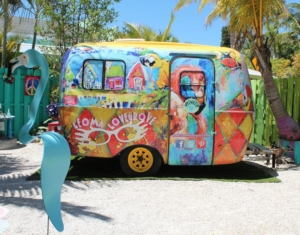 one of my painting performances as Bealls, you've seen it parked outside the entrance to the store.
Studios magazine featured my traveling studio in their Summer 2014 issue. Studios takes readers inside the creative spaces of artists who paint, bead, collage, quilt, knit, felt, assemble, stitch, and dream, with dozens of tips and tricks from artists and professionals. I always enjoy reading Studios and seeing the creative ways in which other artists are expressing themselves.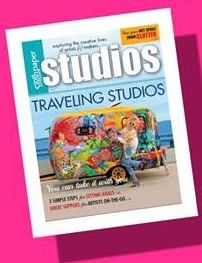 Studios is a special issue of Cloth Paper Scissors published quarterly by Interweave, a division of F+W Media, Inc. Here's what Cherie Haas, Online Editor for ClothPaperScissors.com, had to say about the 7-page feature article that accompanied the picture of my studio on the cover: "This issue makes me along for a road trip. I can't imagine what it would be like to create as freely as artists like Leoma. One of the beautiful things about magazines like Studios is that they connect us with others who share the same passions. It seems like every paragraph of this article pulled me in closer to Lovegrove, as we have so many things in common."
As you can imagine, I was thrilled and honored to have the readers of Studios Magazine across the nation take a look inside.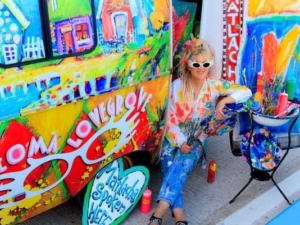 I get a lot of questions about the studio. It's a 14-foot vintage camper from the 1960s. Mike and I originally bought it so we could travel with our parrot, Solomon. Over the years, however, I found myself spending more and more time using it as an art retreat where I could keep creating while on vacation. Eventually, it became a full-fledged traveling studio.
In my mobile studio, I like to surround myself with things that inspire me, such as photos, letters, inspirational quotes, and—of course—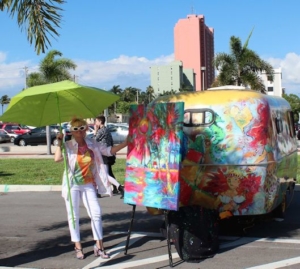 good music. I have filled the walls with both completed and in-progress artwork, and wearable art hangs in the closet.
So as I was choosing scenes for Florida Floats My Boat, it seemed only natural for me to include a place where I've created so many beautiful paintings and wonderful memories.
But the story doesn't end there. I have some exciting news about My Glamper. Stay tuned. I'll share that announcement right here, on an upcoming blog.