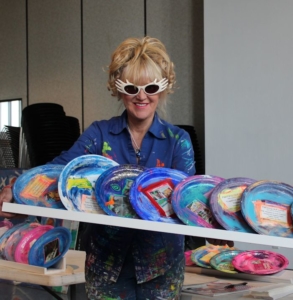 In order to break the ice and establish rapport with my audience, I open each of my Paint Out Loud performances by tossing hand-painted plastic Chinet plates into the crowd. I make a total of 15 plates for each show. I keep one, and let fly the other 14.
Over the years, my "flying saucers" have become something of a collector's item. People show up at events just to try and catch a plate. When they do, they have me autograph it. I've met some folks who have 3, 4 or more plates on their walls at home.
I displayed a collection of these flying saucers are display in Palettes: Past Present and Pursuit, a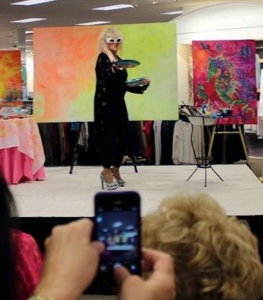 retrospective of my work that was exhibited at the Sidney & Berne Davis Art Center this past January.
Folks who took in the show were able to see the evidence that I've done quite a few Paint Out Loud performances. I've done more than 30 Paint Out Loud Flying Saucer tosses to date. The number grows every year.
Be sure to catch one of my Paint Out Loud performances. Follow me on Facebook or visit this blog often as I'll post the days, times and locations of future Paint Out Loud performances!