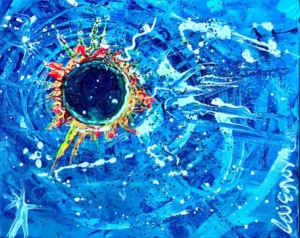 It happens all the time. Someone catches one of my live painting demonstrations at Bealls, comes across me painting on location like they did during the solar eclipse, or watches a video like the one I did from Kentucky. And they can't believe their eyes. That's because most people have come to equate painting in oils and acrylics with the slow, deliberate application of paint to canvas in an effort to capture an image, whether representational or abstract.
But this isn't my method. It's not my purpose or goal to depict a realistic image or even an impression of the light, shadow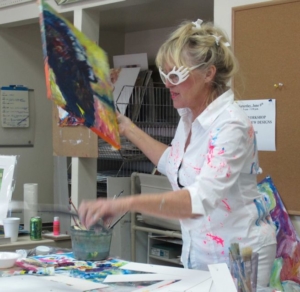 and color of some object in the outside world. What I do is convey my reaction to what I see and place on my canvas, cardboard or other support the subjective emotions I experience during the painting process.
I frequently find it desirable to exaggerate and distort an image in order to express my subjective feelings and reaction to the subject I'm painting – as I did with the solar eclipse. And I almost always enlist intense color, dramatic and agitated brushstrokes and paint drips in my effort to create an emotionally-charged representation of my subject.
Nothing is off limits. No principle of perspective or point of view is sacred.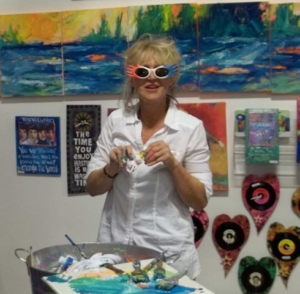 Don't get me wrong. As a proud graduate of the Ringling College of Art & Design, I'm well aware of the strictures of fine art. But in my paintings, they are subservient to my highly subjective, very personal, spontaneous self-expression, which is what I'm sharing with my audiences during a Paint Out Loud performance and the people who view and collect my art.
And it's this approach to painting that explains why I often create a finished work in such a short amount of time. I work fast not for the sake of speed, but because speed is a natural consequence when you're painting from the heart, soul and gut rather than primarily the brain. The emotion I'm feeling as I paint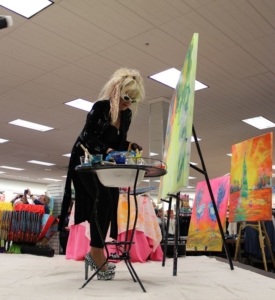 needs to get out and on the canvas or cardboard as quickly as possible. It's urgent. It's cathartic. Since I'm channeling a higher power, the process takes on a life of its own.
This is also why my brushstrokes seem so jarring, even violent. It's why on occasion that I even use my fingers and even the palms of my hands to move pigment across my canvas or other support.
There have been many famous painters who paint expressively like I do. Three of the most famous, of course, are Paul Cezanne, Paul Gauguin and Vincent van Gogh. But as an art movement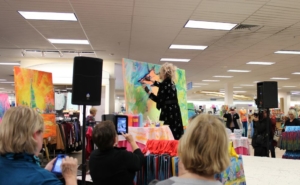 distinct from Impressionism and Post-Impressionist modernism, Expressionism itself traces its formal origins to Germany around the turn of the 20th century. Max Beckmann, Otto Dix, Lionel Feininger, George Grosz, Ernst Ludwig Kirchner, August Macke, Emil Nolde and Max Pechstein are some of the leading artists involved in the German Expressionist movement. Norwegian artist Edvard Munch is also considered to be a leading proponent of the Expressionist movement.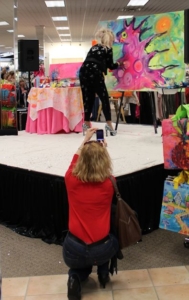 While I'm mindful of their work, I have also strived over the years to develop my own style, technique and subject matter that identifies me as a unique and important artist. And this is why I was so honored when Bealls made me their Florida artist, and why the Marietta Museum of Art & Whimsy purchase a few months ago of four of my original paintings for the permanent collection is a very big deal.
But your interest and patronage is just as important to me. So thank you for following me and supporting my work. And if you've never seen me in action, you don't want to miss "My Studio" this January at the Broadway Palm Dinner Theatre. During five exciting performances, I will not only be painting live, I'll be sharing from the stage stories about my life and my art. It will be a memorable event you won't ever forget.