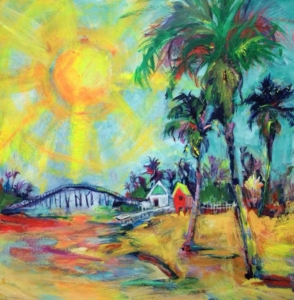 If you know me at all (or follow this blog), then you know I'm an avid Beatles fan, and the sun finally rising in a clear blue sky over Matlacha Island makes me think of Here Comes the Sun, which George Harrison wrote in Eric Clapton's garden using one of Clapton's acoustic guitars. George wrote the song after attending a round of business meetings, which he couldn't hate more. (I know how he felt.)
The song was inspired by the long winters in England, which George thought went on forever, but three days of non-stop of torrential rain conjures the same feeling, don't you think?
Funny thing is that even though Here Comes the Sun never c
harted, many fans call this one their favorite George Harrison song. I don't know about that. I mean, While My Guitar Gently Weeps is so awesome. But I do agree with what George's friend, Tom Petty, told Rolling Stone about the song. "No piece of music can make you feel better than this. It's such an optimistic song, with that little bit of ache in it that makes the happiness mean even more."
No wonder the Republican National Convention used the song to introduce Ivanka Trump when she introduced her father. How fitting!