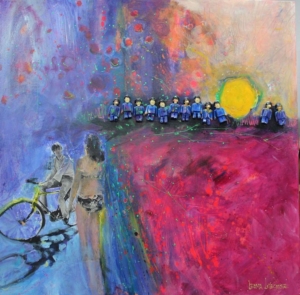 One of my favorite songs to wake up to in the morning is Good Day Sunshine. Paul wrote it at John's house in Kenwood on a sunny day about this time of year (late May or early June). Paul later said that he was inspired to write a song as carefree and upbeat as the Lovin' Spoonful's Daydream. He wanted to evoke "the same traditional, almost trad-jazz feel." He definitely succeeded, wouldn't you agree? Interestingly, Lovin' Spoonful songwriter John Sebastian had no idea that he and the Spoonful had inspired the song.
I tried to emulate this same carefree, upbeat feel in my painting. Notice the casual, easy-going manner in which Paul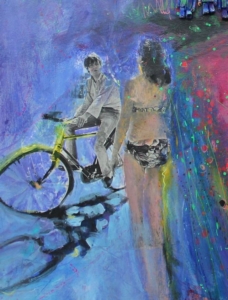 straddles his bike as he encounters the bikini-clad dark-haired girl standing before him. Both the bike and the girl reflect the sun, with both casting amorphous, blurry reflections on the rainy-soaked roadway. As the sun breaks through the stormy clouds, everything is reinvigorated. Even the reds and purples of the strawberry field emanate a vibrant, positively-charged frequency or vibration.
This painting also has a sculptural aspect. The blue Beatles spanning the horizon line are three-dimensional figures that complete the picket fence that divides the sky from the foreground.