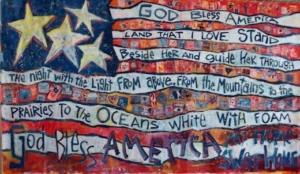 As the 16th anniversary of 9/11 approaches, I'd like to revisit another "Paint Out Loud" canvas that I rendered in a live performance at the Broadway Palm Dinner Theater. It's called Remember 9/11 and, like Remember 9/11 Tenth Year, I painted it to honor those who died on that day that changed America forever.
To resurrect the innocence and purity we lost on September 1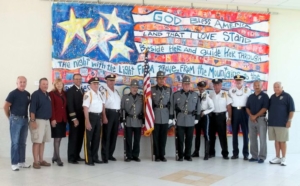 1, I emblazoned the lyrics of God Bless America in the white fields of the fluttering Stars and Stripes. The red stripes, signifying valor and hardiness, are filled with posters extorting Americans to wake up, remember 9/11 and "never forget." At 10 by 18 feet, the canvas is large, powerful and imposing – like America herself – and represents a clarion call to renewed vigilance, perseverance and justice.
A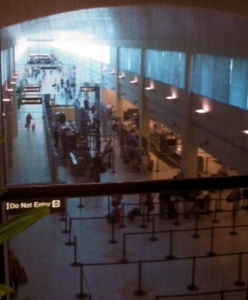 fter the ceremony at the Broadway Palm, the Lee County Alliance for the Arts displayed Remember 9/11 at Southwest Florida International Airport (RSW) as part of the Art in Flight program that it administers for the Lee County Port Authority. From 2009 to 2011, Remember 9/11 was the first artwork domestic visitors, including returning veterans and active duty military service members, when they arrived by air in Concourse D at RSW. It further served as a somber reminder to departing travelers of the reason they are subjected to the time-consuming and nettlesome screenings and enhanced security measures that the Transportation Security Administration has been constrained to impose in a post-9/11 world.
B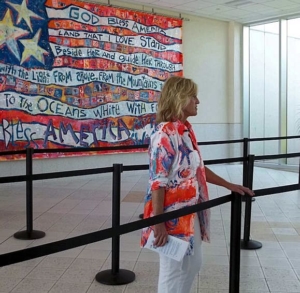 efore closing, I'd like to encourage you to take a few moments o remember the brave souls we lost in New York, Pennsylvania and Washington, D.C. on September 11 and all those who have died or been injured in subsequent terror attacks not only in the United States, but across the globe. Rest assured, living free is the best revenge against those who would have us live in fear.
God Bless America,
Land that I love.
Stand beside her, and guide her
Thru the night with a light from above.
From the mountains, to the prairies,
To the oceans, white with foam
God bless America,
My home sweet home.