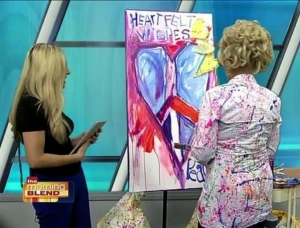 For several weeks now, I've been collecting heartfelt wishes. In fact, you may recall that I brought back hundreds of them from my trip to Merrillville, Indiana. During the talk I gave to the student body of Merrillville High School on Leoma Lovegrove Day, I handed out hundreds of hand-painted paper hearts and invited the students and faculty to write their heartfelt wishes for peace and pass them back to me. I've been safeguarding them ever since and plan to take those hearts, as well as all the others I've collected since that time, to the Imagine Peace Tower in Reykjavik, Iceland.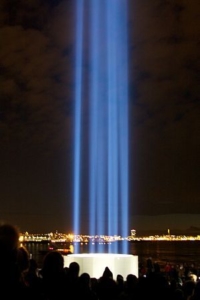 The Imagine Peace Tower is a light tower located on Videy Island in Kollafjörður Bay near Reykjavík. On a clear Icelandic night, the beam from that tower soars two and one-half miles into the cold northern sky. It was installed by Yoko Ono in 2006-7 in memory of John Lennon. The tower of light is conjured by 15 searchlights amplified by prisms that act as mirrors. Power for the lights is provided by Iceland's unique geo-thermal energy grid.
The column of light from the Imagine Peace Tower projects vertically into the sky from a 30-foot wide wishing well base. Written on the tower's base in 24 languages are the words "Imagine Peace," an abbreviated slogan that traces its origins to the "War Is Over! If You Want It" billboards that John and Yoko erected in cities around the world during their successful Year of P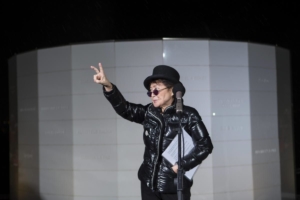 eace campaign to end the war in Vietnam. The base contains millions of wishes for peace that Yoko has been amassing for more than 35 years.
While I use hand-painted pieces of paper for purposes of gathering heartfelt wishes for peace, Yoko has been using something she calls a Wish Tree since 1981. As the name implies, it's simply a living tree that she displays during her art exhibitions. Viewers are encouraged to write their personal wishes for peace on a sliver of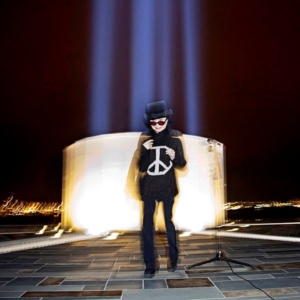 paper or shipping tag and tie them to a branch of the tree. At the end of the exhibit, the slips and shipping tags are collected and added to the base of the Imagine Peace Tower.
Yoko doesn't read the wishes. She feels that it's not right to read people's private wishes. But by including them in a single, totem-like sculpture, Yoko expects their cumulative emotive message to engender a universal consciousness that will, one day, result in world peace.
I share this belief, which is being sorely tested right now by North Korea, Iran and Isis. And that's one reason I'm c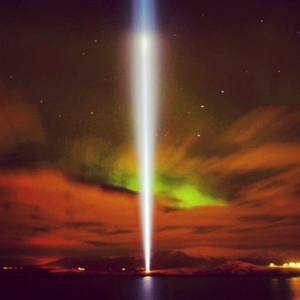 ollecting heartfelt wishes. And I will add the heartfelt wishes I've collected to the ones that are already there.
The light beam from the Imagine Peace Tower isn't on all the time. Yoko only lights up the tower at certain times during the year. It's been on since the anniversary of John's birth on October 9. It will be turned off on December 8, which is the anniversary of John's death.
I won't get to Reykjavik before Friday, but I will make to Iceland at some point. And when I get there, I will drop off everyone's heartfelt wishes for peace. They'll join hundreds of thousands of other such wishes. Perhaps someday, the world really will know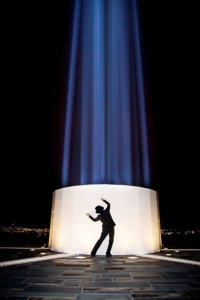 peace.
"You may say I'm a dreamer
But I'm not the only one
I hope some day you'll join us
And the world will be as one"
We miss you, John. But in spite of the passage of time, your genius still shines brightly.