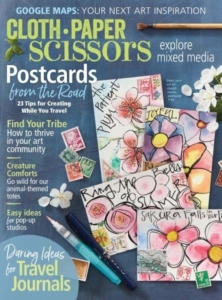 A couple of posts ago, I told you that I've abandoned my studio in favor of painting on location. And I've developed mobile or portable paint boxes that I can transport to select locations using my car and even my bike. But I also have a travel trailer that I can haul behind the car during extended trips.
My mobile studio is a 14-foot vintage camper from the 1960s. My husband and I originally bought it so that we could travel with our parrot, Solomon. Over the years, however, I found myself spending more and more time using it as an art retreat so that I could keep creating while I was on vacation. Eventually, it became a full-fledged traveling studio.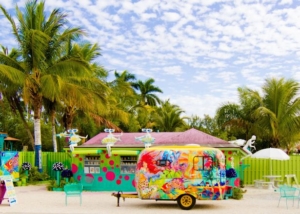 My traveling art studio has been the subject of several magazine articles. The most recent appears in the July/August edition of Cloth Paper Scissors magazine, which reprinted a story that first appeared in the Summer 2014 edition of its sister magazine, Studios, under the title of "Composition, Commitment & Color" which I wrote myself.
The author of the Cloth Paper Scissors article, Natalie Nettles, had been doing a series on creating art on the go. "But what if you want to take the idea of art-on-the-go a step further?"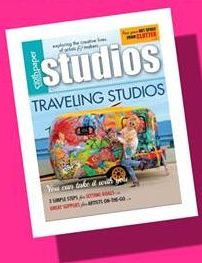 she writes. "Say, with a traveling art studio? Artist Leoma Lovegrove did just that. Leoma's main art studio is located on Matlacha Island in Florida, but she also has a fantastic mobile studio that she uses to stay inspired and create her vivid, colorful paintings on the road."
If you haven't already seen it, here's the link to the story.
Enjoy.