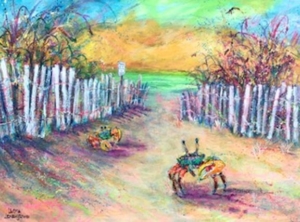 Believe it or not, some people raise an eyebrow when they learn that I do paintings for Bealls that the department store chain uses in various lines of casual wear, beach accessories and household goods. They obviously don't know the history of collaborations between famous artists and fashion designers.
Over the years, Louis Vuitton, Christian Dior, Chanel, Yves Saint-Laurent, Prada, Hermes, Coach, Fendi, Nike, Jimmy Choo, Levi's Jeans and Tommy Hilfiger have all partnered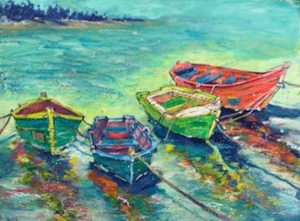 with famous artists to create stunning, provocative and fun-filled fashion statements. And among the artists that these and other fashion houses have commissioned to create their designs are Andy Warhol, Keith Haring, Damien Hirst, Piet Mondrian, Merce Cunningham and Cindy Sherman.
My designs for Bealls further a number values that Bealls and I both share. Chief among these is creating positive, uplifting images that make you smile and feel good. People who wear my designs and use the totes, beach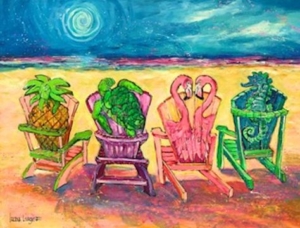 chairs and other products in my line report that the colors I use in my palette and the images that Bealls and I select put them in a cheerful mood and make others respond to them in a positive manner. When you put on a Lovegrove tee or other top, you become a smile ambassador as you go about your day.
They're conversation starters, too. "Love it when someone asks me about them," says Andrea K. Lassaux, for example, from the bottom of the Spanish Steps in the Piazza di Spagna during her visit to Rome.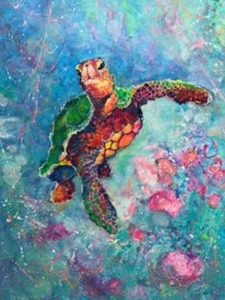 Not only are you a smile ambassador when you wear a Lovegrove tee or top, you're promoting Florida as a tourism destination. I know. I know. That may be the farthest thing from your mind, but think about that for just a moment. Everyone who lives and works in our great state benefits from tourism. I was just reading that in 2015, more than 105 million people visited Florida. They spent (are you sitting?) more than $82 billion (yes, billion with a "b"), and generated $4.9 billion in tax revenues.
Last year, Lee County's share of the tourism pie totaled just an eyelash short of 5 million people. And they spent $3 billion while they were here. One in five (or roughly 57,000) Lee County jobs is tourism-based. In essence, tourism is a tool for enhancing what we love about our region from its ecological wonders to our history and culture.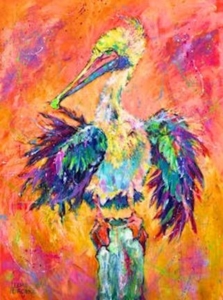 And perhaps that explains some of the imagery you see in the paintings that Bealls wanted for its current Lovegrove line. There's a sky blue bicycle with a basket full of flowers sitting at the end of a path leading to the beach. There's a scene with two stone crabs trekking up the beach between two whitewashed picket fences with the sea green waters of the Gulf of Mexico at their backs. There ar four colorful row boat floating in tranquil waters, and Adirondack beach chairs pointing at a setting moon.
Northerners and visitors from Canada, the U.K. and Germany are infatuated and intrigued by our unique sea and wildlife. That's why sea turtles, pelicans, sharks, snook, sailfish, flamingoes and egrets in flight are so popular with both the locals and vacationers who shop Bealls, whether online or in their 74 brick-and-mortar locations.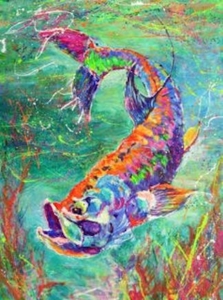 But another value that's important to both Bealls and me is promoting an active, healthy lifestyle.
Everyone knows that it's not good to be too sedentary. Yet, with our reliance on our devices from PCs to smartphones, we spend entirely too much time sitting on our derrieres. Sure, we've got gym memberships, but it's a struggle making the time to go and work out.
But Florida gives us an option year-round that others simply don't enjoy. We can walk the beach, go for a swim, wet a line, get out on the water, hike in a wildlife preserve, or ride our bikes. And no matter where we go, the scenery is colorful, picturesque and puts you back in touch with nature and our higher purpose.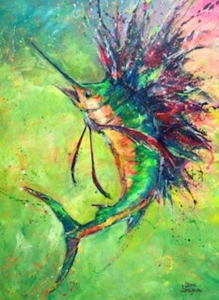 And this lies at the heart of what I strive to capture and portray in the paintings I do for Bealls.
So if you've purchased one or more Lovegrove-inspired products from Bealls, I thank you. And if you haven't, I hope you will in the future. You'll find that the images featured by the products in my line will make your disposition sunnier – and that's infectious. You'll see. The people you encounter will react more positively too.
So thank you for being a Lovegrove smile ambassador and spreading our positive, uplifting message about Florida and the importance of leading a healthy lifestyle. We need more positivity in our daily lives, don't you agree?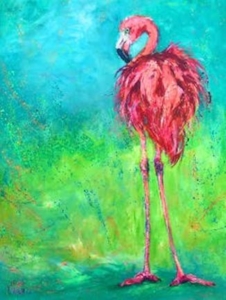 BTW, I'd love to hear your stories. Nothing thrills us more when someone leaves a post on Facebook describing something positive that's happened to them while wearing a Lovegrove tee or top or using some other Lovegrove household item.
While four of the originals from my Florida Floats My Boat series have been purchased by The Marietta Museum of Art & Whimsy, others are available along with prints, and there's a wide range of Florida-themed artworks to tickle your fancy at Lovegrove Gallery & Gardens on sunny Matlacha Island. We're on Pine Island Road, and there's a boatload of fun things to do when you come to the island. But check on Facebook or call ahead because we're operating under our "summer schedule."
You can reach us at 239-938-5655.