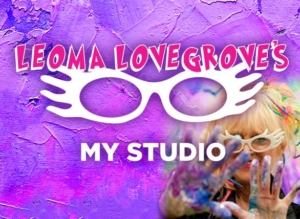 The 2016 splash hit one-woman show, "My Studio," returns to the Broadway Palm Dinner Theatre for five thrilling performances in January, 2018. Join me as I share stories of my artistic adventures while I paint live on stage to a medley of nostalgic tunes.
If you've followed this blog, you already know that my subjects have included former President Jimmy Carter (who hung his portrait in his presidential library in Atlanta) and Sir Richard Branson (whose portrait was commissioned f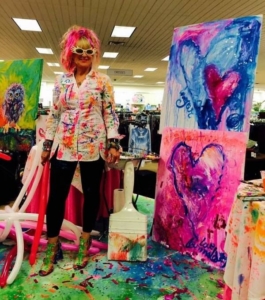 or Virgin Airlines' headquarters in London). The presidential library of George W. Bush also includes my work, as do the private collections of actress Sharon Stone and actor Jesse Metcalf. To commemorate the unification of East and West Germany, one of my paintings was presented to the Consul General of the Federal Republic of Germany, Eva Alexandra, Countess Kenderffy.
Because my paintings uniquely capture Southwest Florida's active, healthy, water-based lifestyle, Bradenton-based Bealls Department Store made me their Florida artist in residence in 2013, a distinction I still hold. Today, millions of products ranging from designer casual wear to household goods, Tervis drinkware and beach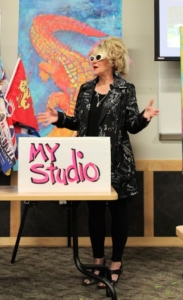 towels and chairs bear my signature style and trademark sunburst eyeglasses. And scores of consumers make painting pilgrimages to Lovegrove Gallery & Gardens on sun-kissed Matlacha Island to purchase my originals and prints and have me sign their tees, tops and visors.
Up at 4 and to bed late each night, I find it necessary to recharge my artistic batteries by painting in Claude Monet's gardens in Giverny, France at least once and sometimes twice each year. Not only have I taught workshops in Monet's gardens, I am also the first American to paint on board a replica of Monet's floating art studio as well as the very first American to exhibit my work in Pierre Bonnard's home in Vernon, France.
Back in Washington, D.C., I was an honored guest at President Donald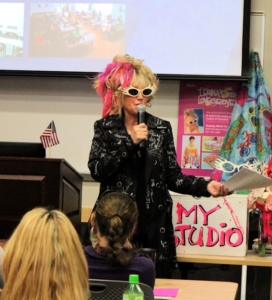 Trump's inauguration this past January, and the guest of honor a decade earlier at an artist's reception in the White House given by First Lady Laura Bush.
In addition to corporate and private collections in the United States and Europe, my work can be found in the permanent collections of Florida Gulf Coast University, the City of Fort Myers and the City of Lakeland, and my mural The Catch of Matlacha Island greets visitors as they enter the island from Cape Coral. More recently, the Marietta Museum of Art & Whimsy in Sarasota, Florida acquired four of my originals for its permanent collection.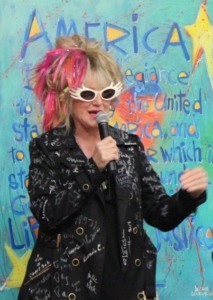 My work has garnered reviews in numerous magazines and art publications, and I was featured in February of 2012 in Galileo, a German television show that is viewed by more than 2.5 million people in five countries. I not only hold the Lee County Visitor & Convention Bureau's prestigious Jujonia Award, I have has also been a Paulette Burton Citizen of the Year finalist and Fort Myers News-Press Person of the Year nominee.
During the shows, I will not only invite you into my studio, but my life as well – as I share stories and paint live on stage to my favorite music.
Dinner performances of "My Studio" will take place on
Thursday, January 4, 2018;
Friday, January 5, 2018;
Saturday, January 6, 2018; and
Sunday, January 7, 2018.
There is also a lunch/matinee option on Saturday, January 6.
Dinner starts at 5:30, with the show beginning promptly at 7:30. Lunch on Saturday is served at 11:45 a.m., with the show beginning at 1:15 p.m. The buffet and show costs $45 per person, although you can come for the show only for just $25.
Broadway Palm is now celebrating its 24th season. The theatre entertains over 170,000 guests annually. The facility includes a 450-seat dinner theatre, a 100-seat "black-box" theatre called The Off Broadway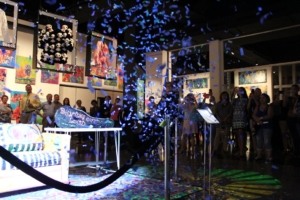 Palm Theatre, a 120 seat dining room called Café Cabaret and a 30-seat space just off the main lobby called, The Art Café. The theatre is located in the Royal Palm Square at 1380 Colonial Boulevard, Fort Myers.
So if you've ever wondered what a day in my life is like, or if you've always wanted to watch me create a painting live right before your very eyes, then make plans to attend "My Studio." You'll have the time of your life, and there will be lots of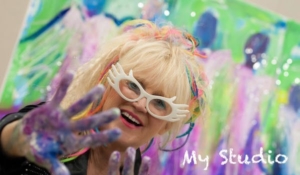 surprises to delight your senses and engage your imagination.
But beware of flying saucer, splattered paint and Lovegrove's infamous confetti bazooka!