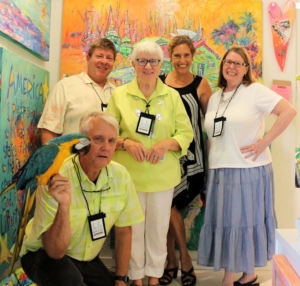 Last October, Lovegrove Gallery & Gardens celebrated Indie Author Day. It's an annual event that showcases authors who have self-published, or Indie-published, their books. Most of the other hosts are libraries, but why shouldn't an art gallery sponsor an event that showcases the incredible talent that we have right here in Fort Myers and on Matlacha/Pine Islands?
The authors and patrons who took part in Indie Author Day last year had an incredible time. Since we were the only host in all of Southwest Florida, some people travelled from as far as Tampa and Fort Lauderdale to take part in our event. In fact, we had such a good and rewarding time that we're doing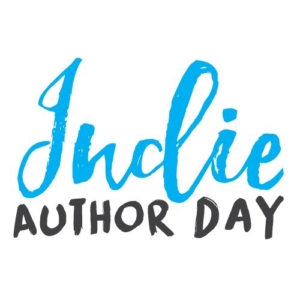 it again this year. It will be a wonderful opportunity for you to meet local writers, hear about their inspirations, and get an unparalleled glimpse into the indie publishing business, from pitch to publication.
We're still putting together the stable of authors who will be on hand to talk about their books and discuss the ins and outs of publication. But we anticipate that last year's participants, Carol Ervin, John D. Mills, (my husband) Michael J. Silberg, Fran Thomas and Tom Hall will be joined by Betty Freberg, Jenn Smith, Scott Smith, Robin Tuthill and Rick Weber for this year's event. Several illustrators, including me, are also taking part in Indie Author Day this year.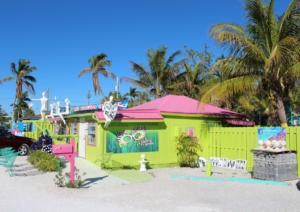 Indie Author Day takes place between 11:00 a.m. and 2:00 p.m. on Saturday, October 14, 2017 at Lovegrove Gallery & Gardens. So save the date … and if you are an indie author and want to join in the fun, please let us know!
Meanwhile, here's a look-back on some of the stories I posted on my old blog about the event:
Yesterday's Indie Author Day was a resounding success (Sunday, October 9, 2016)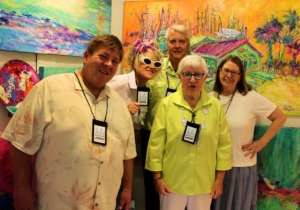 Lovegrove Gallery & Gardens' inaugural Indie Author Day was a resounding success. Patrons who came for the event or simply dropped into the gallery sipped Chardonnay, sampled "brain food" and got to mingle with half a dozen local independent authors about their books, their inspiration and the publishing process.
The authors and books represented in the gallery yesterday spanned a wide array of topics and genres. St. James City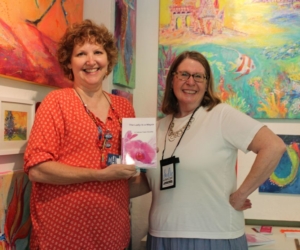 author Fran Thomas writes romantic comedy with a local twist and sold several copies of her novella The Lady is a Mayor. We can hardly wait for her to finish the sequel, which will be a full-length book that she expects to self-publish using the same tools and platform that she did for her novella.
Fort Myers divorce and criminal defense lawyer John Mills is our local John Grisham. He's written not one, not two, but six legal thrillers Reasonable and Necessary (2000), The Manatee Murders (2002), The Objector (2004), Sworn Jury (2007),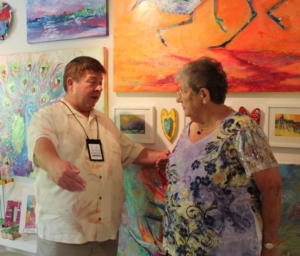 The Trophy Wife Divorce (2011) and The Hooker, The Dancer and The Nun (2015). The Trophy Wife Divorce is the name of John's boat, and he sells lots of books to people who see him on the water and in fishing tournaments.
Cape Coral author Carol Ervin writes historical-grounded period fiction set in a 1900 West Virginia logging town. She's as prolific as John, with a series of three books, Girl on a Mountain (2012), Cold Comfort (2013) and Midwinter Sun (2014) – plus two others, Dell Zero and Ridgetop. To give her book the authentic historical underpinnings her readers love,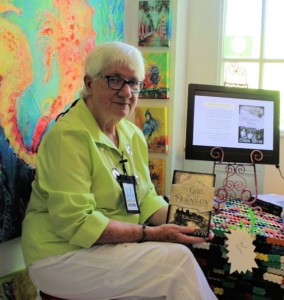 Carol found a very old manual and has become something of a self-taught expert on turn-of-the-20th-century logging in West Virginia.
My husband, Mike Silberg, is a religious author. His book is titled Falling in Love with the Prince of Life. And he writes and lectures on religious topics on a regular basis. Mike was brought up in a church community in the western suburbs of Chicago where he was raised on the Bible. He developed a love for the Lord and His word and pursued these interests at Anderson University in Indiana, where he received a degree in Bible and Religion in 1977.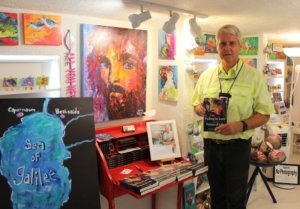 Estero writer Tom Hall has partnered with North Fort Myers author Robin Tuthill to produce an historical about the women who helped settle Fort Myers in the years following the end of the Civil War and who turned the town into the modern-day economic, cultural and tourism center it is today. Their book is titled Female Pioneers of Fort Myers: Women Who Made a Difference in the City's Development and it's not only available on Amazon.com but in the Edison Ford Winter Estates gift shops, including the one at Bell Tower.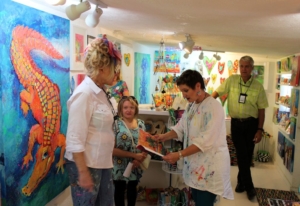 And while Betty Freberg couldn't be here yesterday, I was on hand both as hostess, artist and the illustrator of a children's book titled Frebie Dog Tales (The New Mailman, The Dog Catcher and the Judge). The book is inspired by a true tale. When Frebie's owner of 13 years, Doug, moved to Washington D.C., he asked his widowed mom to let Frebie move in with her. Neither Frebie nor Mimi could imagine the adventures they were about to share.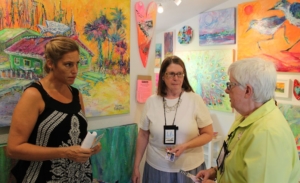 And each of us made a new friend in Pittsburgh freelance magazine writer and author Jill Cueni Cohen, who drove all the way down from Ocala to spend some time with us during Indie Author Day! (Jill and I share a passion for keeping the events of 9-11 alive in our hearts and minds, and I'll tell you more about Jill in a separate post.)
As participants discovered, each of these authors has developed a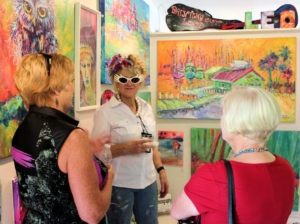 battery of unique approaches to publish, market and familiarize the local community with their books. And that was one of the goals of Indie Author Day 2016. There's a lot to be said for networking, and Indie Author Day gave the participating authors a chance to meet and trade secrets about how they go about selling their books.
It also let aspiring writers know there's a path to publication that does not necessarily entail finding a literary agent and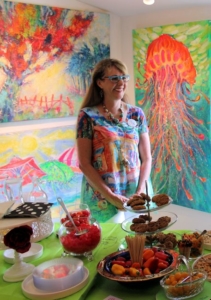 getting a big name publisher to purchase their book. And it gave readers a chance to find out about books and authors they wouldn't have otherwise met or known about.
"Publishing your own work is more viable today than ever before," notes Independent Book Publishers Association CEO Angela Bole. "Indie Author Day provides a chance to discuss publishing options, learn best practices and celebrate successes with a tribe of forward thinking writers, publishers and librarians."
With a growing list of partners including the Independent Book Publishers Association (IBPA), Publishers Weekly's BookLife, Library Journal's SELF-e, Pressbooks Public, RAILS, Massachusetts Library System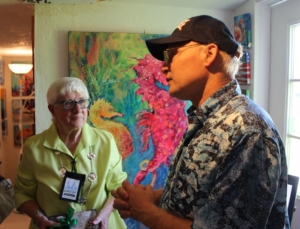 (MLS), Soon to Be Famous and BiblioLabs, authors participating in Indie Author Day gain support from all walks of the book publishing industry.
"Over the past three years, we've seen this movement grow and evolve, and Indie Author Day is the first instance of bringing this whole community together on one day to raise awareness of self-published books and demonstrate its place as a vibrant part of the publishing ecosystem," adds David Greenough, General Manager & Group Publisher of Library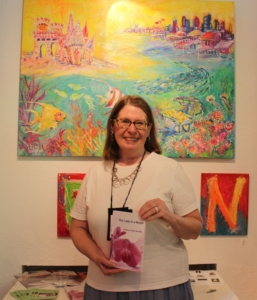 Journal.
I must say that on a national level, Indie Author Day actually targets local libraries. Unfortunately, none of our area libraries participated in this year's event. But it's my hope that every one of our libraries will get involved next year.
While the success of our event illustrates that art galleries and visual artists can play a role in introducing area writers to local readers, there is no substitute for the type of live, in-the-flesh support a library can provide. Or as Publisher's Weekly VP of Business Development Carl Pritzkat says, "Behind most great authors is a great local library."