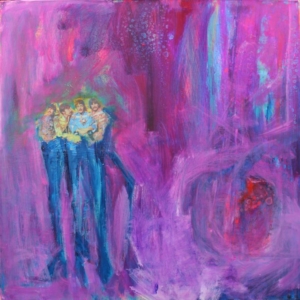 In yesterday's post I mentioned Sgt. Pepper's Lonely Hearts Club Band. Released on June 1, 1967, it was the Beatles eighth and perhaps best album.
Sgt. Pepper's was made possible by the time the group had for studio work once they decided to stop touring in 1966. Between November of 1966 and April of 1967, they spent over 400 hours in the studio and were now free to explore sounds and compositions not intended to be performed before a live audience.
One of the prettiest songs on the ablum is "A Little Help from My Friends."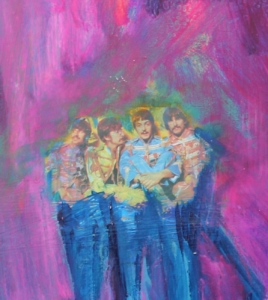 Originally, the introductory lyric asked, "What would you do if I sang out of tune? Would you stand up and throw tomatoes at me?" Ringo balked. In fact, he told Paul there wasn't a chance in the world he was going to sing the lyric as written. Why? Ringo remembered only too clearly what happened years earlier when fans began throwing jelly babies on stage after George mentioned in an interview that he liked them. Ringo was convinced that he'd be taking tomatoes to the face and other parts of his body for the rest of his life unless the line was changed. And, of course, it was.
An artist by the name of Peter Blake designed the cover, and came up with the idea of having people the Beatles admired standing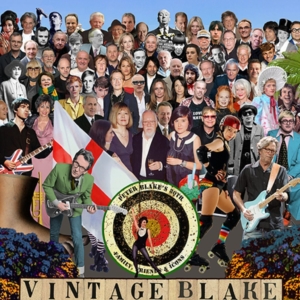 behind the Lonely Hearts Club Band. He created a montage of cut-outs for the Beatles to stand in front of when they did the photo shoot for the cover. Bob Dylan was a clear choice by all the Beatles, but oddly, Elvis Pressley was omitted even though the Beatles considered him their hero during their early years.
Fred Astaire was Paul's choice, and the legendary dancer was reportedly delighted to be featured. The most touching inclusion was the Beatles' former bandmate, bass player Stuart Sutcliffe, who died tragically in 1962 at the age of 21 from a head injury and did not live long enough to see the band's future success. Ever the mystic, George chose four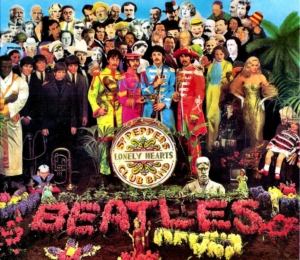 Indian gurus. Ringo did not choose anyone personally, preferring to defer to the choices made by his bandmates.
Although the Beatles assumed everyone they named would jump at the chance to be included on the cover, they were in for a handful of surprises. Shirley Temple asked to hear the finished product before giving her consent. And Mae West initially passed, asking "What would I be doing in a lonely heart's club band?" Only after receiving a letter written and signed by all four Beatles did the legendary sex symbol relent.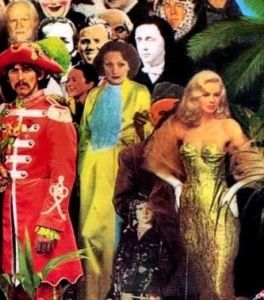 West and Temple were two of only six women included on the cover, the other four being Marilyn Monroe, Marlene Dietrich, Diana Dors and Bette Davis (in full Queen Elizabeth getup), although the latter's cut-out is blocked out by George's left shoulder. (Albert Einstein is similarly blocked out by John's right shoulder and can barely be perceived. John also insisted on including Adolf Hitler, but he is also blocked from view by the band.) John's literary idol, Lewis Carroll is depicted. Besides being John's writing hero, Carroll inspired I Am The Walrus through his poem, The Walrus and the Carpenter.
The oddest choice on the cover was undoubtedly Sonny Liston, the boxer who was twice defeated by Muhammad Ali. The Beatles had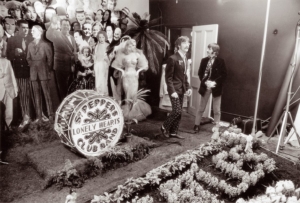 not only met Ali in person a few years previously, they clowned around with the boxer. Liston had not only refused to pose for a photo op in Miami Beach prior to his title fight with Ali, he attended a Beatles concert that same year (1964), hated the group, and said, "My dog drums better than that guy" (referring to Ringo).
The four Beatles are seen wearing custom-designed military-style outfits made of satin dyed in Day-Glo colors. George and Paul can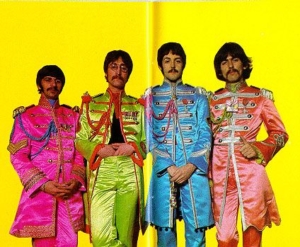 both be seen wearing their recently-awarded MBE medals. John was very ambivalent about the band receiving these medals, and declined to sport his MBE, choosing instead to don several generic medals he borrowed from the mother of former Beatle drummer Pete Best. The royal coat of arms of the United Kingdom can be seen on John's right sleeve. Paul is wearing a black Ontario Provincial Police armband.