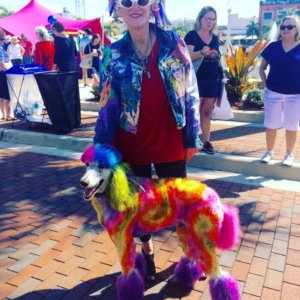 Several days ago I came across this photo, which shows me standing with a "Leomatized" poodle during ArtFest Fort Myers this past February in the downtown Fort Myers River District. I was certainly envious. All those bright, almost psychedelic colors. And then it occurred to me that four years ago, it would have been illegal for anyone to dye an animal of any kind here in the state of Florida.
It was another example of government overreach. The ban was aimed at preventing pet stores from dying chicks and bunnies for Easter. Oh, it wasn't that the dye injured or killed the bunnies and chicks. Rather, it was that people bought them for their kids for Easter and then failed to take care of them or turned them loose a day or two after Easter had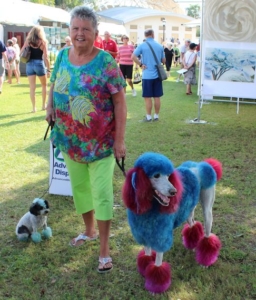 passed.
But what's that got to do with dying a dog for a show, competition or an event like Christmas, St. Patrick's Day or even ArtFest? As long as non-toxic dyes or food coloring is used, why should our government and tax dollars be involved?
But, of course, I wasn't thinking of any of that when I encountered my Leomatized friend during ArtFest. I was just admiring her colors and thinking, ah, a dog's life, now that's the life for me!
Wait! Wait! There's more! I wasn't the one who Leomatized the poodle. Rather, it was someone who admires my work. A friend of mine took a picture of the same dog at Bonita Springs National Art Festival in January of 2016 – and notice the blouse she's wearing! It's from my line of casual wear available at Bealls!
Oh, yeah!